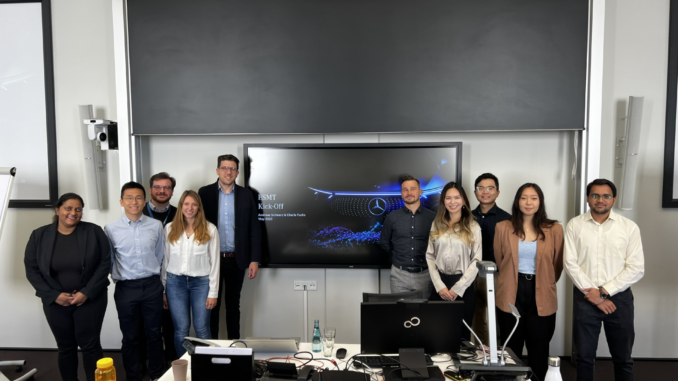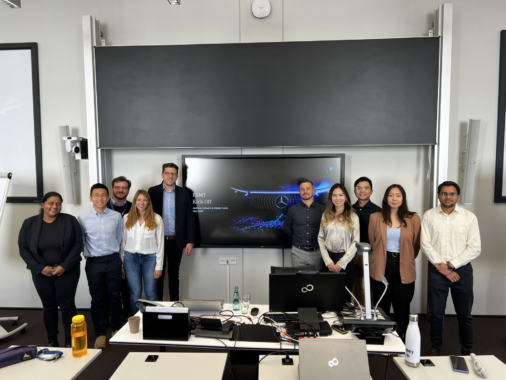 My name is Sitong and I hail from Beijing, China. My educational journey led me across borders to Franklin & Marshall College in the US, where I earned my undergraduate degree specializing in political science. Following that, I landed a job working as a government affairs manager in an international company where I honed my skills. In January 2023, I embarked on a new chapter by enrolling in the Full-time MBA program at ESMT Berlin to further enrich my knowledge and expand my horizons.
Choosing ESMT
What attracted me most to ESMT was its focus on technology. One of the course content areas of focus is artificial intelligence, a subject that remains at the forefront of modern business dynamics. We have been immersed into the realm of data analytics, learning how to use R-language programing to help us make informed decisions. This training is very helpful for future business leaders.
ESMT's central location provides ample opportunity to visit local tech companies and experience the vibrant innovation scene in Berlin. International study and work experience makes it possible to become a leader with a global perspective. In addition to working with students from different backgrounds and from all over the world, ESMT also provides an international platform for networking on topics ranging from politics, economics, and culture to cutting-edge technology.
Empowering the Consulting Club
As a school that puts "Technology" in its name, it's no surprise that the most popular student clubs at ESMT are technology-related. In contrast, not many students choose the Consulting Club.
I have always been interested in consulting, and after chatting with my classmates, I realized that many of them were also intrigued by the consulting industry but lacked in-depth knowledge about it. This inspired me to step up and run for the position of Consulting Club chair.
My goal was simple: to open up new avenues for students to dive into the world of consulting, enabling them not only to gain insights, but actively engage in projects as consultants. In the end, I was honored to secure the role of co-chair of the Consulting Club together with my classmate James Lam.
As part of the Full-time MBA program, each student is required to complete a three-month capstone project, which is a test of our 15-month journey, where we apply what we have learned to solve a business challenge given to us by a client. However, if you join the Consulting Club, you'll get a taste of what it's like to be a consultant without having to wait until graduation!
Consulting project with Mercedes-Benz
We finished an exciting consulting project with Mercedes-Benz on sustainable luxury in June. The project lasted three months and involved 10 students, who were divided into two groups.
One group of students conducted research on the company's competitors, mainly to understand the progress and measures of the premium car maker in terms of sustainable development.
My group was responsible for calculating the carbon footprint associated with users' online activities. For example, we delved into the realm of carbon dioxide emissions generated when a user purchases a car via a mobile app. We didn't find this kind of data published by other companies in the industry and it was invaluable to Mercedes-Benz as this data allowed them to optimize the backend of the website and other online systems.
Upon completion of the project, we were invited to the Mercedes-Benz Berlin office to present to the client. They were very satisfied with the project deliverables and issued us with a digital certificate and told us they look forward to working with us again in the future.
Upcoming consulting projects
We have another project on the horizon to work together with a Michelin star restaurant run by an ESMT alum. This project has just kicked-off and is still in the preparation stage where we are recruiting project team members.
The recruitment for our projects is not limited to members of the Consulting Club, as we are sending out mass emails to all ESMT students encouraging those who are interested to apply. We will then do a preliminary screening and send it to our client, and based on their feedback, we will determine the final candidates. Judging by the number of applicants so far, students are very interested in the projects and we are confident that we can provide quality consulting services to our clients.
In addition to providing practical projects in different industries, the Consulting Club also provides career development services. For example, we invite alumni from the consulting industry to share their tips on job hunting, and help students prepare for case study interviews.
Fuelling career aspirations
I have a clear career goal to stay and work in Germany after graduation so I have been on the lookout for opportunities to gain work experience here while studying.
I came across a working student position at Sinolytics advertised on Indeed and applied for it. The company provides services to European companies interested in entering the Chinese market, helping them with business analysis and customized consulting solutions.
It was only a two-month position, but I learned a lot from it, especially how to translate policy knowledge into practical business advice. I would like to thank the company for their trust in me. Although I applied for a working student position, I was given the same tasks as my full-time colleagues, including being invited to participate in presentations during meetings with clients. One of the major benefits of the job was the networking opportunities, where I had the chance to meet local colleagues and partners.
Full-time MBA summer options
In addition to finding working student positions, students can also take advantage of the summer semester to do an internship in a company in order to enhance their career experience. Students can also choose from two other options offered by the school during the summer semester which includes an intensive German course and the Social Impact Project.
Personally, I value practical experience and wanted to learn more about different industries, so I chose to do a corporate internship, which I have been doing since July at Siemens Healthineers' treasury department. This job is completely different from my previous experience, and I hope to use this opportunity to better prepare myself for my career development.
Advice for new students
The first three months of school are basically a nine-to-five school day, followed by group work, and you may be attending Career Development Centre workshops, student clubs, and other social events, or have a 15-hour-a-week student job like me. So how you manage your time becomes an issue. My advice is to focus on priorities rather than perfection.
If you want to apply for summer internships that are only open to MBA students, start looking for applications before school starts in January. Each company has a different hiring cycle, with some closing applications in December of the previous year. For general internship positions, you can wait until after the start of the school year to get started. I would recommend paying more attention to the job content, as long as it will help you in the future, it'sworth a try!
If you have any questions about ESMT or the Full-time MBA program, please feel free to contact me via LinkedIn.