Hello from Sheremetyevo Airport, Moscow, Russia!
You readers are lucky today because I am stuck at this airport for 20 hours of layover and I have no other better things to do right now. Haha kidding! I was planning to post this on the plane a few hours ago and I'm going to do it now before holiday kicks in and I would be too busy having fun to write.
So Module 1 of MIM was over and the winter holiday starts, finally! To say "finally" is somehow a bit of a bluff because now that it's over, I sort of think it was like last week when I set foot on Berlin's cool, hard ground. Things happened so fast (as we all know) here at ESMT and before we knew it, we have tackled 7 subjects + language course + a series of skilled and career workshops. It looked as if we would never make it, but we did. Now, that reminds me of what Francis (our beloved Decision Theory professor) said one fine day: "I'm not here to make you feel comfortable about yourself. I'm here to challenge you and push you beyond your limits." He was right. I guess we all need a bit of pull, and push, and maybe a kick once in a while too.
Well, if you ask me how my experience was here at ESMT, I would say it has been a life-changing experience. I'm not going to talk about what I've learned or how great ESMT is because we all know that. At a personal level, I have made great friends. There were ups and downs, and as time goes by we've grown to share more and more meaningful things. There were tears of frustration, tears of joy, and even tears of laughter. I still remember one fine evening on the U-Bahn to the language school when we looked at each other's tired faces and we just laughed and laughed till we cried. There were days when everyone's eye-bags were a little bigger than usual. There are other days when the girls stop wearing even the slightest make-ups or even bother how their hair looks like or what clothes they were wearing. There were also times when tension rises, group dynamics flipped and the air seems less friendly. But hey, we got passed that with high spirits! I absolutely enjoyed the Christmas Dinner last night and the Secret Santa's events hosted by Blanca and William. It was relaxing, fun, and yummy. Great company, great wine… Now what's more to ask for? Below are some of us who managed to squeeze into the picture: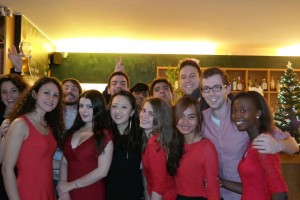 Before I get carried away, I would like to send my regards to all my fellow MIMs out there who are either travelling or getting ready to do something fun this winter holiday. Spend your quality time wisely before coming back for the second amazing race, alright?
With Love,
(and sleepiness)
XOXO