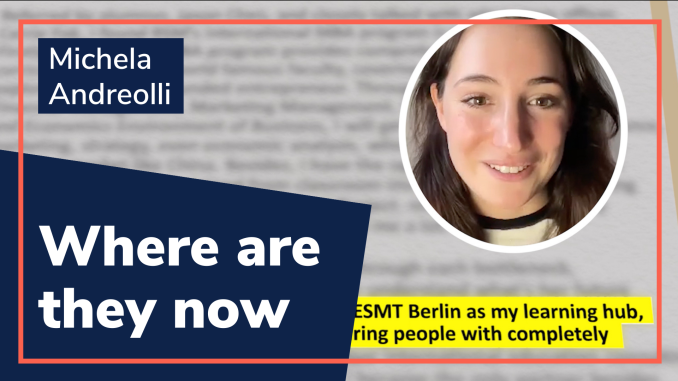 The Social Impact Project for me will forever be the best experience of my life.
"One of the things I have always been passionate about is education. When I talk about education, I'm not referring to the mere studying of subjects but the whole process of learning". This makes my heart smile and it's amazing that I wrote this in my ESMT Berlin admissions essay because it's still so absolutely true today.
Actually, there's a couple of things that happened in the past year that really put me in the direction I was intending in the essay The first one, I launched my own startup that helps unprivileged students get a proper education and by education, I not only mean studying. Studying is already accessible in Italy which is my home country. I want students to be able to earn money to spend on extracurricular activities because I think this is the core of the learning experience when you are in your 20s. I want people to be able to experience these kinds of experiences so that they can then become better people through education.
The second thing is that I recently became a Social Impact Project coach for ESMT. I'm now helping four teams who have decided to spend their time supporting organizations all over the world in their mission to empower students to have a better education.
The reason why I chose ESMT Berlin as my Learning Hub is because I want to be surrounded by inspiring people with completely different backgrounds from mine. I made the right choice.
During my time at ESMT, we had lessons, an internship, and a lot of different things and we also had workshops. One of these was about storytelling and I can't express how impressed I was by everyone's story, and you could really see that ESMT did an amazing job in picking the right people for that Master at the time. That experience, that workshop was for me, the moment I realized "okay, I'm in the right place".
The specialization in entrepreneurship and innovation and the social impact project would help me become the person and professional I have always grown to be. We actually had a class that was called "Startup Challenge" where you had to come up with an idea and develop it throughout the entire course. In the end, the exam was to pitch the idea in front of investors so we actually had investors listening to us talking about this and to me it was incredible because the idea that I came up with was a very early version of what is now my startup.
I joined ESMT for the Social Impact Project but I could not imagine that the experience would be so great. I traveled during COVID to St Lucia, a very small island in the Caribbeans with a dear friend of mine who was my colleague and then became my friend during the trip.
We helped an organization called Raise your Voice that advocates for women who suffered domestic violence. For five weeks our goal was to be there for them and understand how to be helpful while managing all the difficulties of being on a small island in the Caribbeans during a pandemic. Whenever someone asks me what the best thing about ESMT is or if they should go to ESMT, I ask them if there is another organization in the world that would teach you business and then teach you how to apply it to an NGO. And then usually they apply to ESMT.
This transcript was edited for clarity