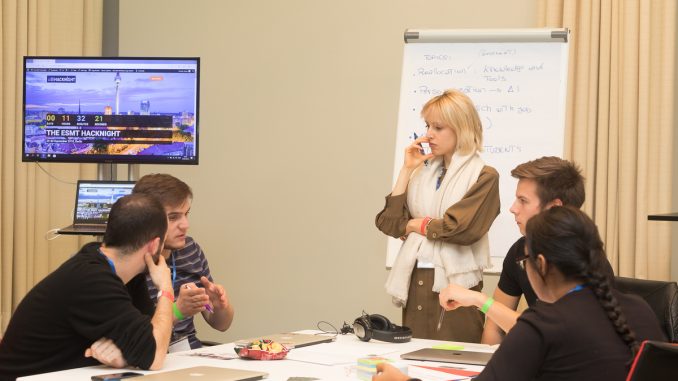 I have been always passionate about event management, but the Hacknight was absolutely a completely new challenge for me. Still, I can see a common trait compared to the other events I have contributed to: the enormous satisfaction you feel when it is over and you can celebrate its success.
When I joined the Entrepreneurship Club this year, our biggest dream was the organization of the first-ever ESMT hackathon. In the last three months, we really worked hard to make it real. It was a real project management exercise, where every team member had to work on specific tasks and build processes and tools from scratch, from website to sponsorships, from facility management to staffing. Without this amazing team this huge event could not have been possible. Have a look at our fantastic crew (Link)!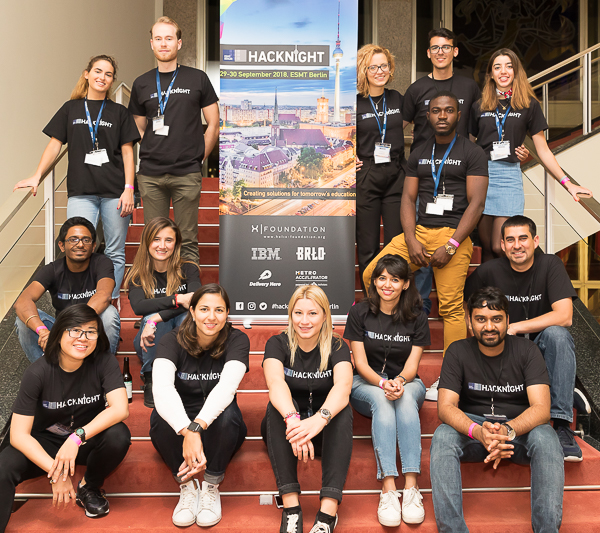 In particular, I was in charge of Marketing and Communication for the event and my very first concern was how to attract MBA students from all around Europe and local techies. Thanks to our connections with other business schools and a small budget for some digital marketing campaigns, in the end more than 100 people took part in the event: more than 70 participants (among them students from ESMT, INSEAD, HEC Paris, and MIP Politecnico di Milano), 13 mentors, 4 judges, and many other enthusiastic guests who attended the technical and inspirational sessions, as well as the final pitch session.
Creative thinking, teamwork, no sleeping, and many energy drinks were the main ingredients of our winning recipe. It was rewarding to see how participants from different schools, countries, and backgrounds all worked their best overnight, despite sometimes dealing with conflict situations, which were managed through the precious support of mentors. The challenge was to develop solutions for the future of education, a topic that should be of major relevance to business schools and to society as a whole, especially in a world where new technologies are more accessible and new job titles appear every day.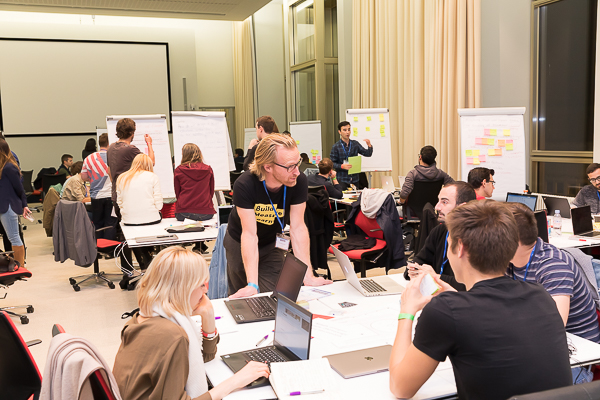 Mentors and judges were absolutely the protagonists of the event. There were experts from global corporations, startups, and digital ventures working at The Lean Startup Co., IBM, Daimler, Delivery Hero, TechStars, HelloFresh!, BCG Digital Ventures, Founder Institute, Outfittery, Charitè, and Helix.
The competition was stiff and judges had a tough time when choosing a winner on Sunday morning. Team Athena, with a project on personalized learning powered by machine learning and Artificial Intelligence, won the competition and each team member received an award of 1,000 EUR, sponsored by the Helix Foundation.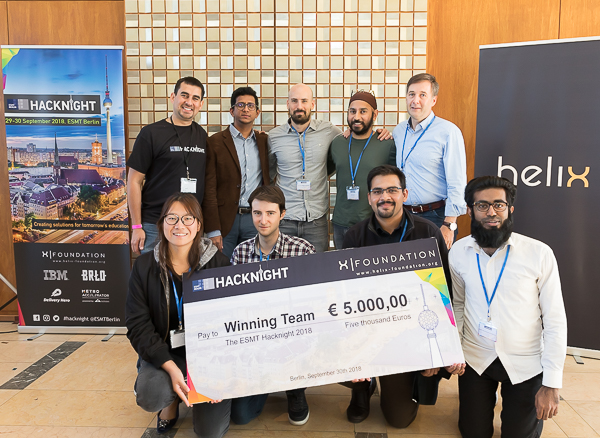 In addition to Helix as the main sponsor, many other brands contributed to making the first ESMT Hackathon memorable, fun, and tasty: IBM, BRLO, Red Bull, Delivery Hero, and METRO.
Combining the MBA studies with this event was not easy, but again the reward was huge in the end: we challenged ourselves with a real project, we had a lot of fun, and not only did we further strengthen our bonds within the team, but we also created new ones beyond the school borders. I hope that future students can really build on this experience and launch many other hackathons, food for thought for students, and professionals who aspire to become tomorrow's leaders. The Entrepreneurship Club strongly believes that business people and techie professionals with different working experiences, backgrounds, and nationalities need to work more closely and keep sharing their ideas to find solutions for future business needs.