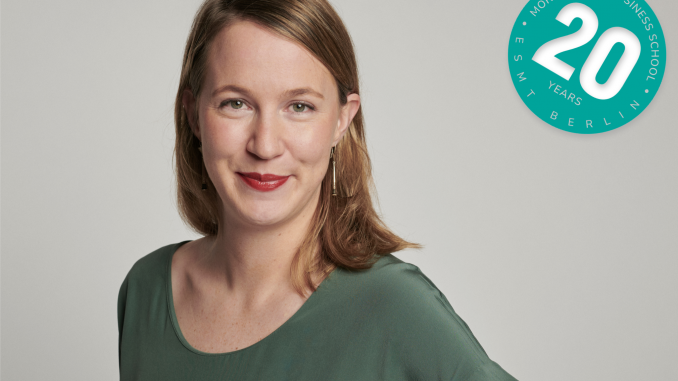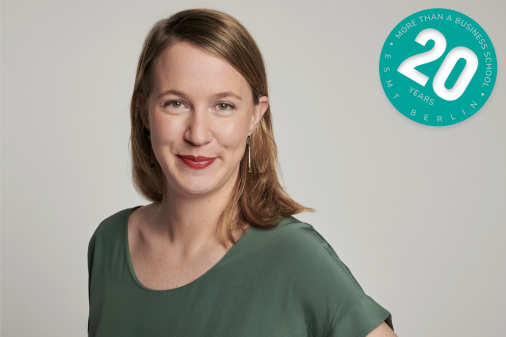 Olga Almqvist graduated from the Executive MBA (EMBA) program at ESMT Berlin in 2021 and is now working as the senior manager of the Societal Impact Financing Initiative (SciFi) at ESMT. We chatted with Olga to learn about her EMBA experience and hear about her post-graduate life working at ESMT.
Tell us a little bit about yourself.
I initially studied political science and started my career in the field of international cooperation. My first "real" job was with the German NGO Welthungerhilfe in Haiti, where I worked as an impact evaluation officer for two and half years in the aftermath of the 2010 earthquake.
In Haiti, I had some colleagues with a very impact-oriented mindset who had entrepreneurship backgrounds. That led me to look for a position in the private sector where I could continue to work in the field of international cooperation. I spent eight years working for a Berlin-based consultancy evaluating cooperation projects in Africa, Asia, and Latin America on behalf of aid agencies, higher education cooperation initiatives, NGOs, and ministries from different European countries.
Over the years my interest in entrepreneurial approaches to tackle societal problems grew, and I was fortunate to receive a scholarship to pursue an executive MBA at ESMT.
What were the key takeaways from your EMBA studies and how are you applying what you learned in your post-graduate career?
It's hard to sum up the takeaways from an 18-month program! The finance, accounting, and entrepreneurship classes helped me understand how investors think about the cost of capital, risk-return profiles, valuation, and willingness to pay. These concepts are particularly useful in my current job, when engaging with entrepreneurs and wealth owners around impact investing. Strategy classes gave me the framework to make sense of an organization's competitive environment based on market analysis and financial reports. They also sharpened my thinking on how to design incentives to achieve desired outcomes. Guest lecturers including CEOs and CFOs from international corporations further brought these concepts to life.
Since graduating, I've also attended a number of open lectures at ESMT around sustainable accounting, which have been very useful to keep abreast of regulatory developments around impact reporting for companies. I'm very excited about ESMT's new FUTURE Institute for Sustainable Transformation and the role it will play in sustainable finance and sustainable accounting.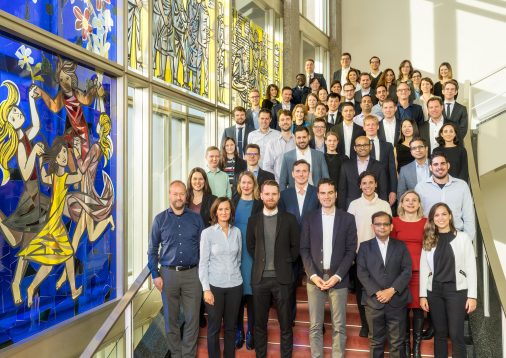 What type of professional will benefit from the EMBA program?
Any professional seeking to build and expand skills in a wide array of topics to increase their ability to lead and make an impact in their organization and their community. Topics covered in the EMBA range from finance to organizational behavior, to data analysis and entrepreneurship.
What you will benefit most from depends on your individual background but doing an EMBA is not only about the skills you develop. It's just as much about the learning journey with classmates from very diverse backgrounds, all of whom have signed up for this because they want to grow professionally and develop as leaders. You'll thus receive lots of inspiration from your peers throughout the EMBA journey and build a network of people in leadership positions from different sectors, countries, and professional backgrounds. Some of your classmates will become close friends whom you can call on for professional and personal advice well after the program ends.
ESMT also offers numerous lectures open to alumni, so you'll continue to receive intellectual input and have opportunities to engage with the ESMT network after you graduate.
Who at ESMT influenced your career and/or life the most?
Getting to know my classmate Papin d'Eve Mpengele from DR Congo was probably the most inspiring encounter of the EMBA program. Papin is working on empowering populations with low financial literacy and incomes to manage their businesses efficiently with the use of machine learning and the internet.
I visited DR Congo many years ago on a work-related trip for my old job but only got to talk to people conducting projects financed by development cooperation. As I've become increasingly interested in the role of the private sector to tackle societal challenges, Papin's entrepreneurial spirit is super inspiring! I'm glad we managed to keep in touch despite Covid through long WhatsApp calls and hope we get to drink a beer together again in the not-too-distant future.
Why did you choose to work for ESMT? 
In my application for the EMBA, I wrote:
"I want to do the EMBA because I see my vocation in bridging the worlds of non-profit, business, and other sectors to tackle social and economic challenges and I believe the program would expand my skills and network to do so."
That actually pretty much sums up my current role at ESMT, though when I applied for the MBA, little did I know that this type of opportunity would open up at ESMT exactly when I was about to graduate. But as my classmate Gaurav reminded me: luck is when preparation meets opportunity!
What is your position at ESMT now? Tell us about SciFi.
I work as a senior manager for SciFi, an initiative that seeks to contribute to making progress on financing major societal transformations for the common good.
SciFi builds on the network and findings of the Dialog Neues Geben ("Dialogue New Giving"), an informal exchange between wealth owners, impact investing, and philanthropy experts. The Dialog Neues Geben was kicked-off by a dinner with German President Frank-Walter Steinmeier in the fall of 2019 and led to a series of exchanges around how to advance giving and impact investing.
With the SciFi initiative, we are particularly interested in leveraging the role of private capital around:
Education – enabling the potential of all
Sustainability – achieving Co2 reduction targets fairly
Private capital can catalyze change because it often goes hand in hand with an entrepreneurial mindset, expertise, and networks. Wealth owners can take risks with their money to spur innovation. Some are also willing to accept lower than market-rate returns or even to forego financial returns altogether if their investments contribute to societal impact.
With SciFi, we promote the strategic and pooled use of resources and work on tailored financing tools and cross-sector coalitions that are needed to pilot and scale innovative approaches.
Describe your daily work at ESMT
We work on bringing together a variety of stakeholders who want to pilot and scale innovative approaches in education and sustainability: impact entrepreneurs, wealth owners, foundations, and, where needed, businesspeople, and politicians:
In the field of sustainability, our approach focuses on impact investing and has an international outlook. I'm currently developing the concept and curating speakers for a high-level roundtable on blended finance and public-private partnerships for climate finance that will take place in Q1 / Q2 2023.
In the field of education and equal opportunity, our convening focuses on strategic philanthropy and venture philanthropy in Germany. I'm currently documenting approaches from our network that put impact at the center and seek scale and sustainability through cooperation with the public sector.
In addition, I host the "Financing Impact" podcast. For this podcast, I conduct 30 to 45-minute interviews with thought leaders from the field of impact finance.
How would you describe the culture at ESMT?  
International, open-minded, and intellectually stimulating.
Please complete the following sentence: ESMT is more than a business school because… 
ESMT is more than a business school because the ESMT community welcomes and nurtures those who want to use business skills and build networks to tackle societal challenges.
I'd like to give a shout-out to the ESMT alumni community, whose Alumni Network Fellowship made it possible for me to pursue an executive MBA, which led to my current role with SciFi!