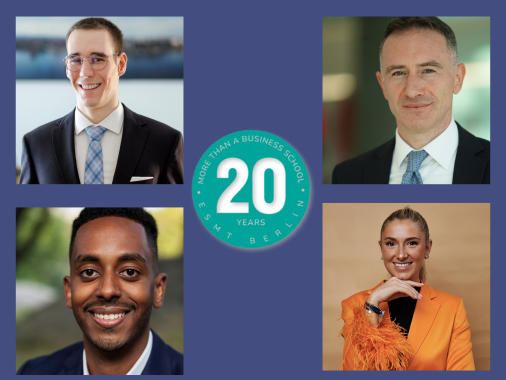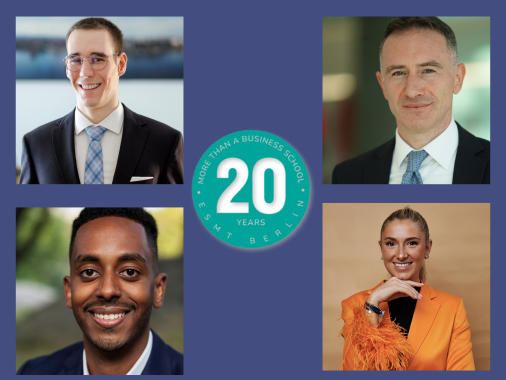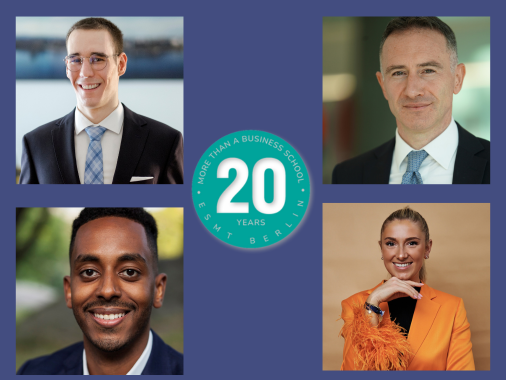 Our alumni embody the success of ESMT as a place of teaching and research. So, to celebrate our 20th anniversary, we invited members of the alumni to share their stories of learning, connecting, and doing – on campus and at work. Below, we hear from Anna Wannhoff (MIM 2022), Luka Zrnic (MIM 2021), Massimo di Tria (EMBA 2014), and Michael Tekabe (MBA 2022) about all the ways the school shaped their personal and professional outlooks.
What have you drawn from the ESMT experience that is still helping you today?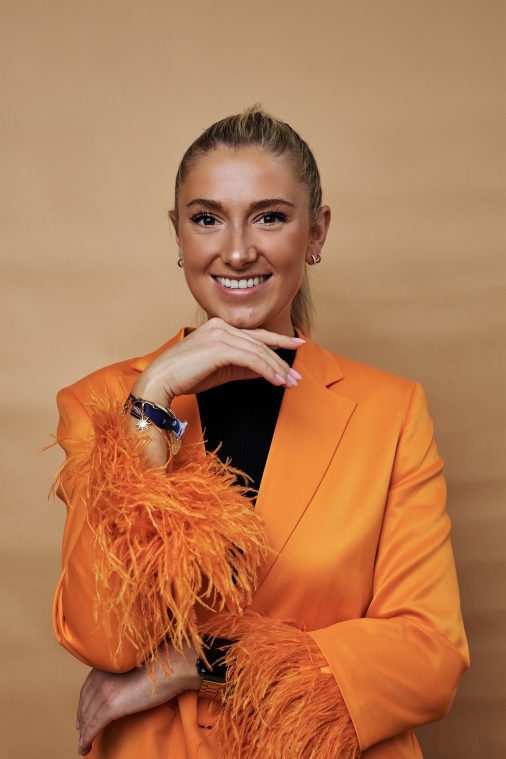 Anna: During my time at ESMT, I learned a lot about management, the ethical and psychological foundations of responsible leadership, time management, long-term planning, successful networking, and strategic thinking. Most importantly, however, I learned a lot about myself.
Previously, I had often limited myself to the skills I knew I was good at. However, there is so much more in each of us. I have learned to be open-minded, attentive, and curious. I do not accept everything that is put in front of me. Instead, I ask critical questions and I do not give up directly. I have learned to work with different cultures and move us forward – to grow – together.
ESMT teaches us that we can do anything if we believe in ourselves. I now actively live this growth mindset. I'm finally one of the strong women in the tech industry I always wanted to be.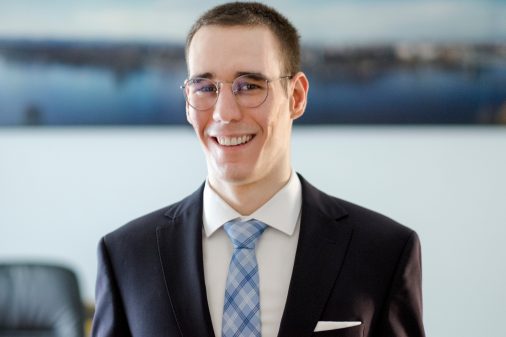 Luka: Studying at ESMT and becoming part of its community has been a transformational experience, both from a personal and professional perspective. ESMT offers amazing learning opportunities and a great network – but how you capture all the possible benefits depends highly on how you approach your time at and beyond ESMT.
Firstly, it is critical to take full ownership of your outcomes and to leave behind excuses. You are always in the driver's seat, so must assume direct responsibility and make the best your experiences. Striving for excellence in everything we do and being grateful for having opportunities will always be rewarded – either sooner or later.
Secondly, helping others should always be a primary goal itself, and it will eventually be a key factor in achieving professional and personal success. I was positively surprised how many people (both within and outside of the ESMT community) were willing to provide me with guidance, support, and mentorship. The most successful people are those who help others on their journey and who want others to succeed, without expecting a return.
Lastly, being humble is the most important personality trait which we should all adopt and nurture. Humility opens us to hearing different perspectives, to listening to advice, and to investing the time necessary to become successful – irrespective of how we define our success.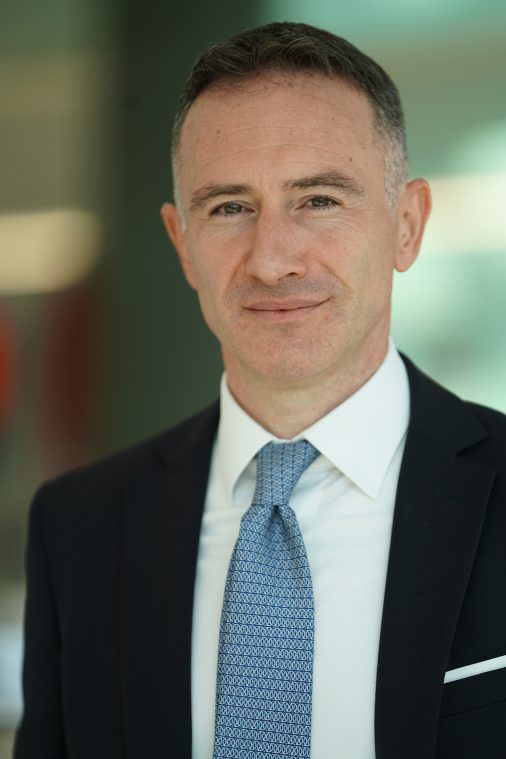 Massimo: My executive MBA at ESMT was a great learning experience in several respects. First, I could read the most updated books, papers, and case studies about the various business disciplines. Second, I could leverage the diverse expertise and experience of my classmates. Third, I could immediately implement the most relevant take aways in my real working life. Such a combination of theory and practice, enriched by diversity and continuously implemented at work, is still my secret for excellence today.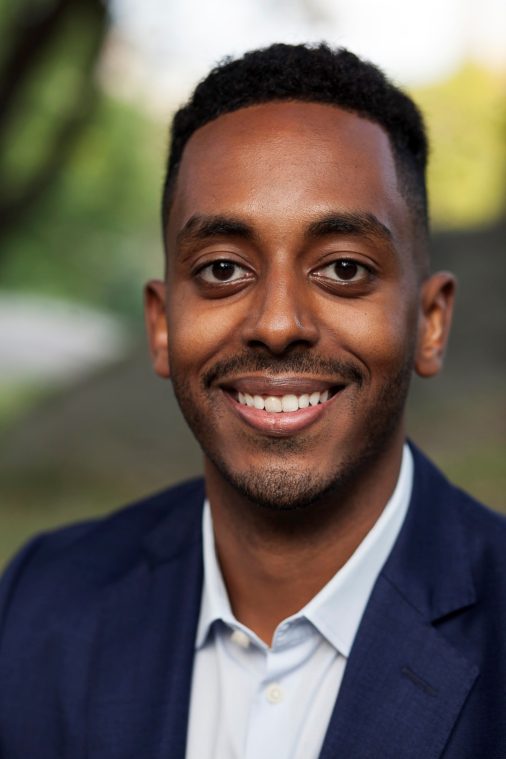 Michael: Coming to ESMT during a global pandemic required quite a bit of optimism from my entire cohort. This kind of calculated risk-taking was something I increasingly got comfortable with throughout my time at ESMT. Learning from classmates from all walks of life provided a unique MBA experience that extended well beyond the duration of the program. The conversations, group-projects, and learning material also opened a new set of employment possibilities to me. It allowed me to shift towards something I had only dreamed about before the program – building a venture in East Africa.
What is something at ESMT that you absolutely loved being a part of?
Anna: While there are many initiatives, projects, and events I loved being a part of, there is one special initiative for which I have developed a real passion: the DigitalFuture Summit at ESMT Berlin (DFS). As the co-chair of the DFS22, I am proud to say that we enabled the first hybrid edition of its history. Discussions took place without physical borders and on a global basis with 1,000 participants from 50 different countries and 400 different universities – 350 on campus and 650 online. What we learn at ESMT are not only the skills we need for management, but also the skills we need for being a leader in today's business world. By taking on the responsibility for one of ESMT's flagship events, I was able to put my theoretical leadership skills into practice, from which I will benefit for a lifetime.
Luka: Outside the classroom, my roles as president of Net Impact and as the founder of TEDxESMTBerlin were pivotal experiences. These have taught me how to lead, start entrepreneurial initiatives, overcome obstacles, and develop structures and mechanisms that would allow the organizations to "outlive" my time at the school.
Massimo: On Sunday, November 24, 2013, my beloved father suddenly passed away. Just a few hours before, I had arrived in Berlin to prepare for the INTOPIA module. After I spent the longest night of my life in a Berlin hotel room, I could finally fly to my hometown in southern Italy to see my father for the last time. It was such a difficult time back at ESMT, but faculty and classmates found ways to ease my pain. I felt protected. ESMT is not just a great business school. ESMT is a great community I love to be part of.
Michael: Traveling with various class members to countries such as Turkey, Montenegro, Hungary, and Latvia created memories for a lifetime. People that were complete strangers 18 months prior became very close friends. Throughout my experience, the community of MIMs, MBAs, professors, and staff were always willing to meet for a coffee, jump on a call, or just answer a few questions. The access to knowledge is something that shaped my experience at ESMT.
What is your favorite place on campus and why?
Anna: My favorite place on campus is definitely the Auditorium Maximum, which is the former banquet hall. There, in September 2020, my ESMT journey started. I remember sitting in the Audimax like it was yesterday, listening intently to the professors and program managers and wondering what the next years would hold for me. Nearly two years later in 2022, I was on the stage of the Audimax to give the opening keynote of the DFS22 alongside my co-chair, Robert Sinke. Being in the same hall where my personal journey started – this was a feeling I will never forget.
Luka: My favorite place on campus is Auditorium 4. We had a large portion of our classes there, especially for the first courses, pre-COVID). It simply reminds me of my excitement of coming to school every day, going into the classroom, and experiencing interesting discussions.
Massimo: My favorite place on campus is the entrance staircase, with its beautiful red carpet and colorful glass mosaics. When I walk up those stairs, I feel a sense of joy for the learning experience ahead. When I walk down them, I feel the responsibility to be the best version of myself and make a difference in the world.
Michael: The MBA study rooms were truly my favorite places. I appreciated accessing a room to focus on tasks – personal and professional. 
Who was your favorite teacher and why?
Anna: My favorite teacher was Linus Dahlander. In his hands-on course, "The Start-up Challenge," we had to generate a business idea in an accelerated environment. We received guidance on how to structure and implement an entrepreneurial business, from the inception of a product/service design to raising capital. What I especially liked about his teaching style was his ability to engage with a whole virtual or hybrid classroom, motivating everyone to share their own ideas. The magic concept here is psychological safety. By creating a safe learning environment, Linus automatically reduced the impact of failures and encouraged more (and better) ideas, faster. Moreover, he taught us how to identify entrepreneurial opportunities and how to develop business ideas from these opportunities in an inspirational and understandable way.
Luka: ESMT's faculty is excellent. Instead of narrowing down to a single favorite teacher, I will give a few shout-outs to individuals who made a lasting impact on my thinking.
Francis de Véricourt has an impressive ability to teach difficult concepts in an interactive and engaging way. He brings the personal context to his classes and has an unparalleled sense of humor and wit.
Stefan Wagner's mentorship during my master's thesis was incredible. I appreciated his high expectations and our aligned ambition on delivering excellent work, paired with his unwavering support.
Guillermo Baquero's classes really pushed me to grow, learn, and develop useful habits. His advice to never go into an exam room without feeling confident that I can use the concepts I learned is a "meta" lesson I use to this day.
Matt Bothner is the type of person you meet once in a lifetime. He uniquely combines humility and confidence. If we were to deliver our work at 10 percent of the level of excellence with which Matt prepares and executes his classes, we would go on to build wildly successful careers.
Huseyin Gurkan is committed to helping others. He selflessly provided me with hours and hours of guidance, answering my barrage of questions while maintaining his patience, dedication, and willingness for further support.
Olaf Plötner and Zoltán Antal-Mokos packed their classes with extremely valuable lessons. They focused on helping us "sharpen the saw" of analytical/strategic thinking versus simply learning facts that we would quickly forget. Their classes were crucial for developing my strong business sense and understanding the intricacies of strategic management and leadership.
Massimo: My relationship with all the faculty members was fantastic. I can say that I was particularly proud to win the Faculty Award as well as the Best Fellow Award. There are several professors I am still in contact with – Joerg, Zoltan, Konstantin, Andreas, Raji, and CB, to name a few. Moreover, as a chief financial officer within Generali Group, a global insurance and asset management provider, I can say I also learned a lot from Professor Mario Rese, who left us far too early. For a good reason, the ESMT Best Teacher Award is named after him.
Michael: Per Olsen and Guillermo Baquero – also known as Professors P&G Money – were some of the most engaging and helpful professors I've had in my academic career. They managed to make fairly dry subjects, such as financial accounting and corporate finance, engaging, fun, and relevant. They have also both supported me beyond the program and continue to be people I highly respect and reach out to in moments of doubt, especially when it comes to running the finances as COO at Kubik, Inc.
What does ESMT mean to you?
Anna: ESMT Berlin is a strong community, where everyone feels comfortable and safe in developing and sharing ideas, embracing each other as innovative leaders, and supporting each other in critical moments of growth – and all of this grounded in a sense of purpose, curiosity, and belonging.
Luka: ESMT is what you make out of it – either a career-defining experience or the next step on your journey. For me, ESMT was a launchpad for unimaginable growth, a place full of excitement and opportunities, and a bridge towards reaching my most challenging goals.
Massimo: ESMT means sustainable leadership to me – a contemporary kind of leadership made of competence, drive, and business acumen but also of humbleness, respect, diversity, and inclusion. Leadership can drive change for the better, leaving a sustainable planet and a stronger society as a legacy for the generations to come.
Michael: People come to ESMT to change the trajectory of their professional careers to better industry, create startups, and form life-long, and at times surprising, relationships.