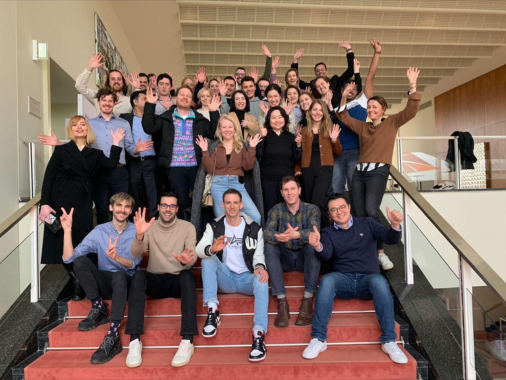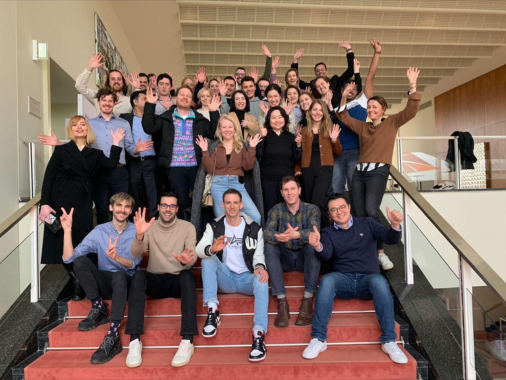 As part of the ESMT Berlin Global Online MBA program, students have the chance to attend the Berlin Experience Week elective module on campus in Berlin. During this week, interactive sessions are held with a concentration on essential progressions in the German and global economy, including Industry 4.0, Germany's Hidden Champions, and the Berlin startup scene.
The program is composed of a combination of educational sessions, company visits, team-building activities, and a social agenda to further cultivate the connections formed during the virtual modules. Madalina Bouros, Daniela Ivanova, Marcos García López, and Giorgio Quartini from the 2024 cohort recently completed the module and share their experiences.
Madalina: I had the amazing opportunity to meet with my fellow MBA classmates in person at ESMT Berlin. It was wonderful to spend this time together and learn about Germany's innovation ecosystem and sustainability trends. I have learned so much from each and every one of you, and I am inspired by your resilience and wealth of experiences and backgrounds. The lectures from outstanding individuals, the site visits to local organizations, and the possibility to make these connections in the middle of Berlin made this experience even more valuable.
I am looking forward to putting all the new ideas into practice and continuing this journey together! I now feel energized and ready to translate all the lessons into my work at AllGrow and the next MBA modules.
Daniela: Breaking my routines, believing in myself, and doing what I am truly passionate about has been a journey. Finding the right people to share this journey with has been a gamble.
The week with my MBA fellows at ESMT Berlin proved that taking risks pays off when the conditions are set right. We learned a lot, inspired each other, broadened our perspectives, and we laughed together until the very last minute. I am grateful that I am the lucky one to experience the joy of it all.
Thank you, Alexander Gerberich and Mellina Bakirtzis for organizing this brilliantly!
Marcos García López, Giorgio Quartini, Andreas Seidl – this has been a blast, guys. Mitte forever! GOMBA team – you are the best, can't wait to see (many of) you in Cape Town soon.
Marcos: I spent an incredible 10 days in Germany as part of the ESMT Berlin Global Online MBA, and I can only conclude that the return to student life couldn't have been any better. From exploring the thriving startup ecosystem of Berlin to diving deep into the sustainability challenge and digital transformation, it was an enriching week full of insights and learnings.
Big shoutout to my peers and the organizers who made this experience awesome with great discussions but also lots of laughs. Thank you all for that! And the best part? In just one month, we'll be off again, can't wait!
Giorgio: I had the incredible opportunity to spend a week with my MBA classmates in the heart of Berlin, and I am still feeling the excitement and joy from our time together. We immersed ourselves in the fascinating history and economic development of Germany while also learning about global sustainability and its importance in shaping our future.
From visiting historic landmarks and museums to engaging in thoughtful discussions with local experts, the experience was really transformative. It was inspiring to see how much progress Germany has made in terms of sustainability and environmental protection, driven by fascinating big corps, young energetic start-ups, and proud and fast-running SMEs.
But the most fulfilling part was definitely to have had this experience with such a talented and diverse group of individuals such as my classmates. We learned so much from each other, and I feel energized and motivated to bring these lessons back to my daily life. Kudos to everyone who made this trip possible (in particular Alex and Mel) and to my fellow classmates for making it such a memorable and impactful experience. I can't wait to see the positive change we will create together in the future!