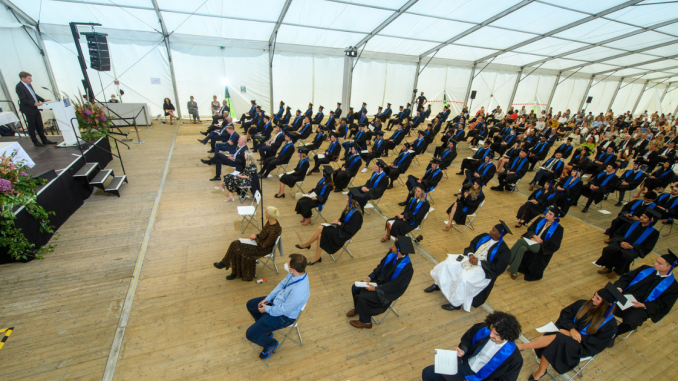 Congratulations to the ESMT Berlin Master in Management Class of 2021 who graduated on September 3, 2021! Despite the coronavirus pandemic, they successfully completed their studies, embodying ESMT's values of community, curiosity, courage, and rigor. We are delighted to welcome another class to our growing network of alumni and wish our graduates the very best for the future.
Read a collection of testimonials below as our graduates reflect on the past two years.
María José Aranguren Acevedo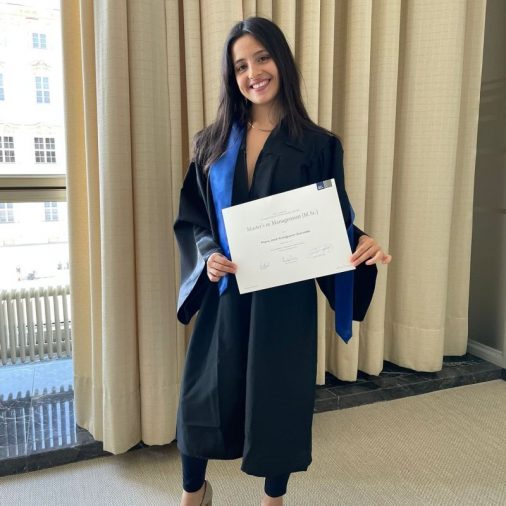 Two years ago I started my life in Germany and had no idea of all the challenges that awaited me. Living alone in a foreign country, learning some German, studying a master's and working at the same time, suffering the pandemic, and even getting the Anmeldung! These were things that represented stepping out of my comfort zone and allowed me to grow personally and professionally like never before! I am very grateful for having made the decision to study here and to have started this adventure that brought me so many lessons for life.
ESMT was a very important stage for me not only because of the lessons learned in the classroom but also because of all the people I met and with whom I had the pleasure to work with. To all my classmates in the master's program, congratulations for having achieved this with me, I have a deep admiration and respect for you as professionals and human beings.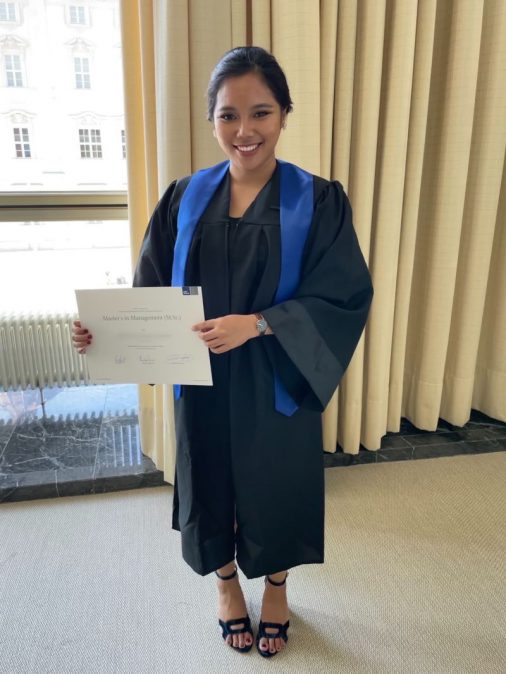 Zane Baity
Three weeks ago, together with my classmates, I graduated with a Master in Management (Finance and Investment track) from ESMT Berlin! I completed my master thesis with the title of "The Basel III Net Stable Funding Ratio (NSFR) and Banks' Performance." I never expected that I would enjoy writing my thesis and be satisfied with it.
I want to thank all the fantastic lecturers during my study at ESMT Berlin and my brilliant and humble classmates and friends. I will miss pre-exam vibes, where we usually gather in the study room until it closes at midnight!
Ludovica Ceschi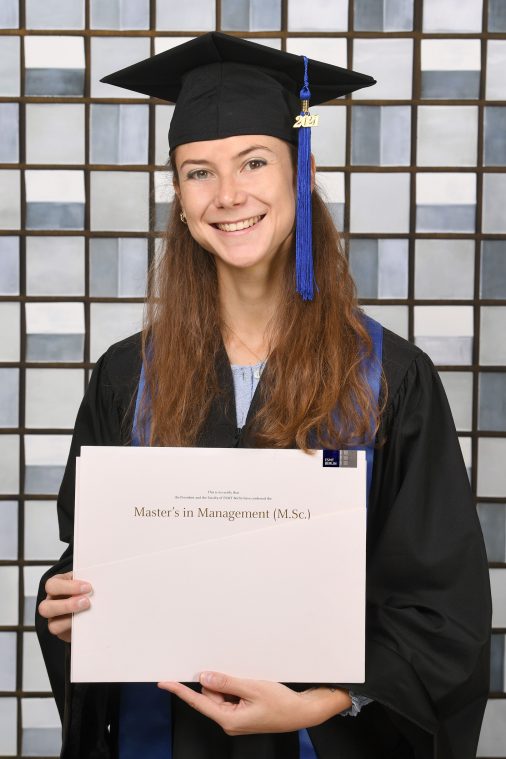 Just over three weeks ago I graduated with an M.Sc. in Management from ESMT Berlin. Who would have thought?

During my bachelor years studying philosophy and comparative linguistics, I never thought I would end up studying strategies, frameworks, and methodologies coming from the world of business. The truth is that towards the end of my studies in the humanities I felt a strong lack of tools and knowledge to bring ideas and desires for value creation into practice. This was my main motivation to give a new direction to my education and two years later, I can happily say that it was totally worth it.
Thank you ESMT Berlin for bringing together a diverse and driven group of individuals through such an engaging program and allowing the magic to happen.
Oleg Falkov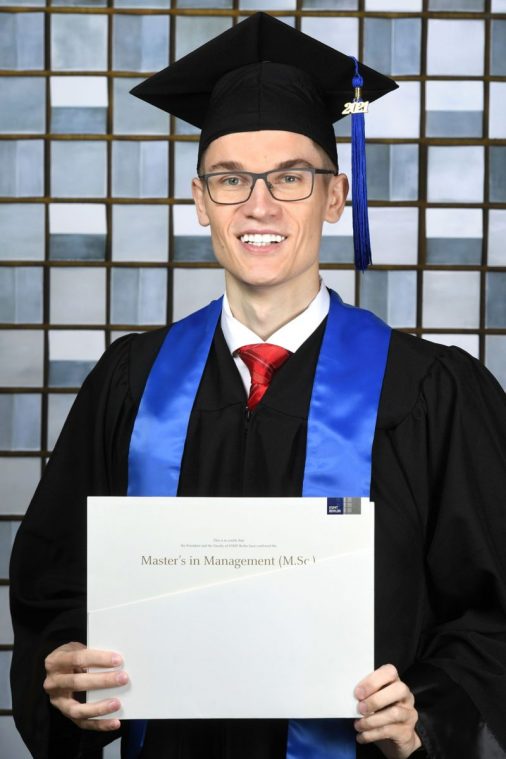 Three weeks ago my class, Master's in Management (2019-2021), graduated from ESMT Berlin. It is a great honor to have achieved another degree, even better to have it accomplished at the #1 Business School in Germany, according to Financial Times.
This school has provided me with an array of technical and human skills that allowed me to make a dream career switch from engineering into finance, but even more importantly, it helped me expand my network, allowing me to meet so many fantastic people, including (but not limited to) classmates, academic staff and experienced professionals.
Aside from having started working full-time at EY, focusing on valuation, business modeling, and economics (a career area, which I wanted to achieve and dreamed to work in when I first applied to ESMT), another personal highlight of mine was achieving a 1.0 grade (German scale) on my master's thesis: "Impacts of Financial Regulation on the Development of Investment Banking Initial Public Offering Underwriting Fees", which focuses on the analysis of the impact of MiFID II and Basel III the context of underwriting fees collected by Investment Banks around the globe.
For the teaching and development of my skill set in this area I would like to thank the President at ESMT Berlin, professor Jörg Rocholl, who was my thesis supervisor over the course of last year.
Finally, a separate thank you is to Marcel Kalis, Dorota Zabdyr, and Ronja Fink, members of the career services team at ESMT, who have taught me how to best prepare myself to find and secure a dream job. Your workshops on professional development, countless alumni sessions, and company visits have been invaluable and I am happy that now I am in a position to support future MIM students in the same way that members of my class were supported by ESMT alumni!
Thank you, ESMT Berlin!
Hans-Peter Frank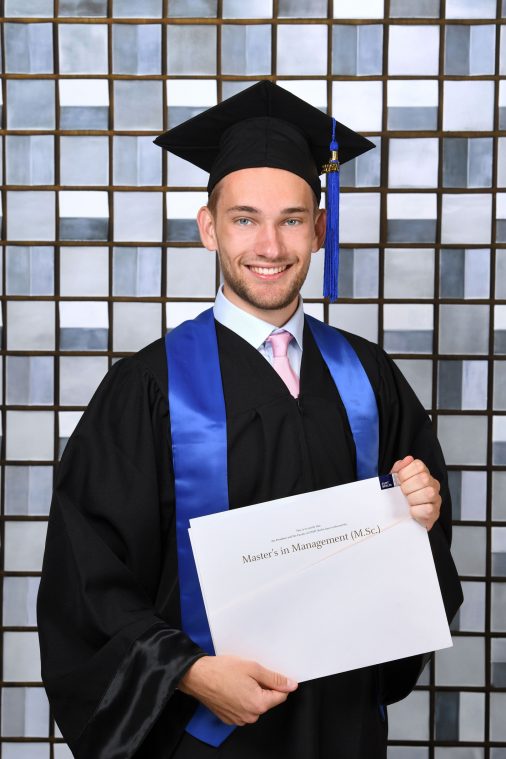 September 3 marked the end of a two-year journey! I obtained my master's in management degree and I graduated with honors. I am humbled by the fact that I finished as 5th out of 103 students, and I want to thank ESMT Berlin for these two amazing years.
I look back at an extremely intense – yet fun – time organizing the DigitalFuture Summit at ESMT Berlin. Thank you Linde Wang for being the best chairwoman anyone could hope for!
I also look back at an insightful Social Impact Project in Uganda. Together with Bruno Guimarães, Peter Smedås, Filippo Poggiato, and Gordon H, I had the chance to help a refugee-led startup to structure its business and to attract investors.
These are just two highlights during my time as a student. There are so many more memories that made my journey at ESMT unforgettable!
I will continue my journey as a Business Development Manager at pliant! Joining a FinTech with a clear focus on technology leadership is the perfect start to my career. Stay tuned for more!
Maximilian Hövelhaus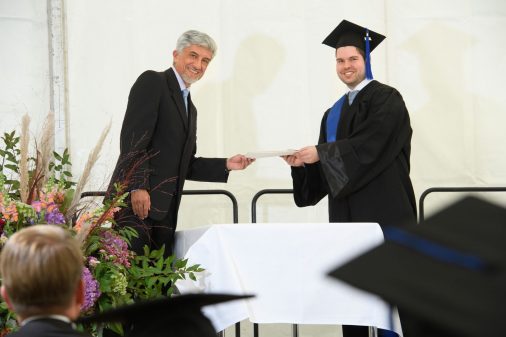 Earlier this month, I graduated from ESMT Berlin's Master in Management program (with honors).

The past two years have been an invaluable learning experience, ranging from in-classroom studies, Zoom breakout sessions to practical experiences like a social impact project with Mercato Metropolitano or helping organize the DigitalFuture Summit at ESMT Berlin as part of the leadership team.
Going back to university after two years of full-time work experience was initially a scary yet exciting decision. Reflecting upon my time at ESMT, I was able to connect many real-life business scenarios with theoretical backgrounds, underlining that my decision to pursue a master's degree was right.
Finally, I would like to thank my family and friends, without whom this achievement would not have been possible. Another big shout-out goes to all professors, staff, and classmates. You formed the basis of my learning curve over the past years, without which my master's experience would not have been the same.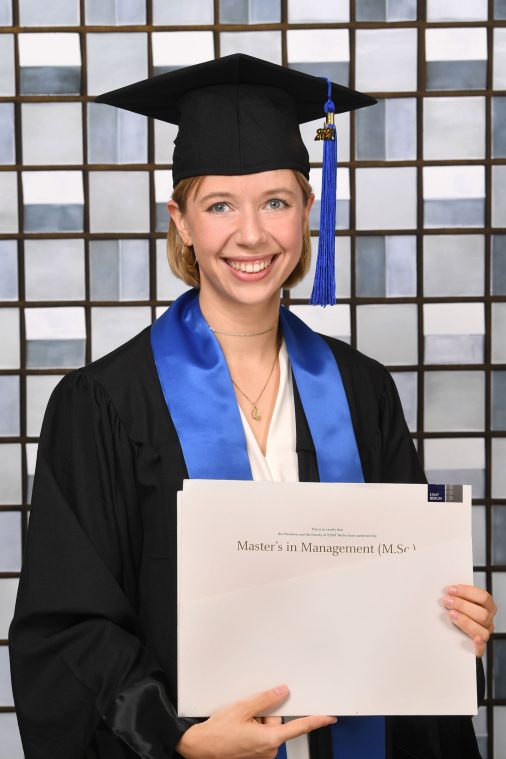 Clara Langer
Almost three weeks ago, I graduated with honors from my Master's in Management studies at ESMT Berlin. Ranked seventh in the cohort and – together with my team – being awarded the Social Impact Project Award, I was extremely proud to see all the hard work and dedication pay off.
But nothing beats the experience of being reunited with my friends and having our families and friends being there with us. Hugging, laughing, and celebrating together in person for the first time in almost a year was all the reward I wanted and needed after so many months of online studying.
Thanks to the people behind the scenes who put so much work into organizing a safe onsite graduation ceremony for us. It was the best day of my whole academic life.
David Núñez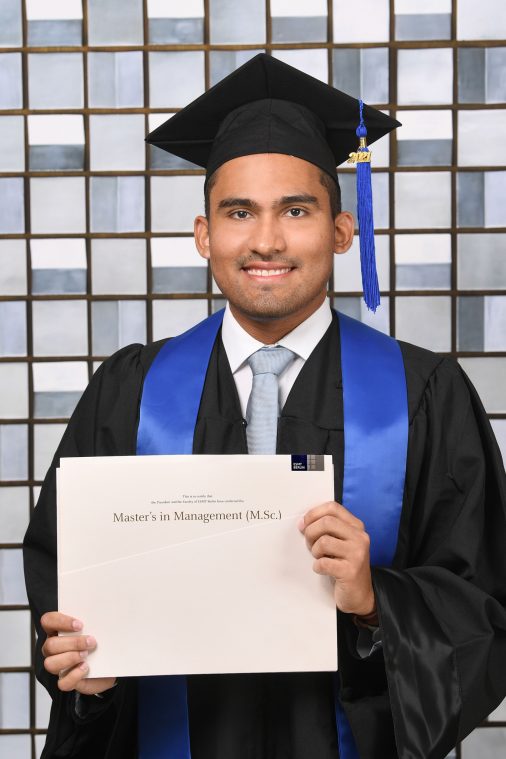 Two frenetic years later, I'm happy to say that I am now a master's in management graduate.
The highlights of this journey include collaborating and learning from great people from all across the world, a great internship experience at Allianz SE where I had the chance to work with my amazing BPA Team, and lastly, along with my peers, I carried out a pro-bono consultancy project for an NGO in my home country which was a great learning experience in itself.
I'd like to thank ESMT Berlin for creating such an engaging program, my team at Allianz for their great lessons and support, and my classmates for all the insightful discussions.
I'm looking forward to embarking on a new challenge in the coming month. Excited for what the future has in store!
Sanya Rajgarhia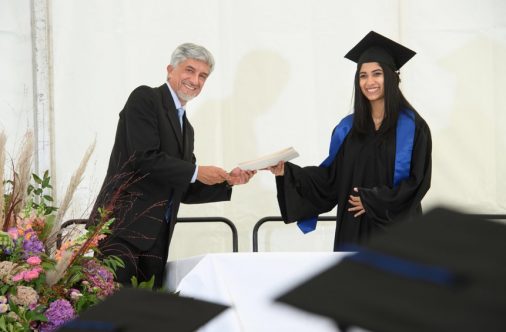 I am excited to announce that I have successfully graduated (with honors) from ESMT Berlin's Master in Management program.

Like most of the students worldwide, this graduating class faced incredibly challenging circumstances due to the pandemic. However, the support from all my friends and family encouraged me to graduate with honors, graduating in the top 20% of my class. This program provided me with an optimal intersection of various topics and courses I'm passionate about. Moreover, the practical experiences through the internship module and Social Impact Project enabled me to effectively implement what I learned.

It is a bittersweet moment. As much as I am looking forward to the next exciting chapter that awaits me [more to follow in a few weeks ;)], I will miss the time I spent with my peers both on and off-campus. We managed to have enjoyable times even though we integrated a full year of online lectures.
Peter Smedås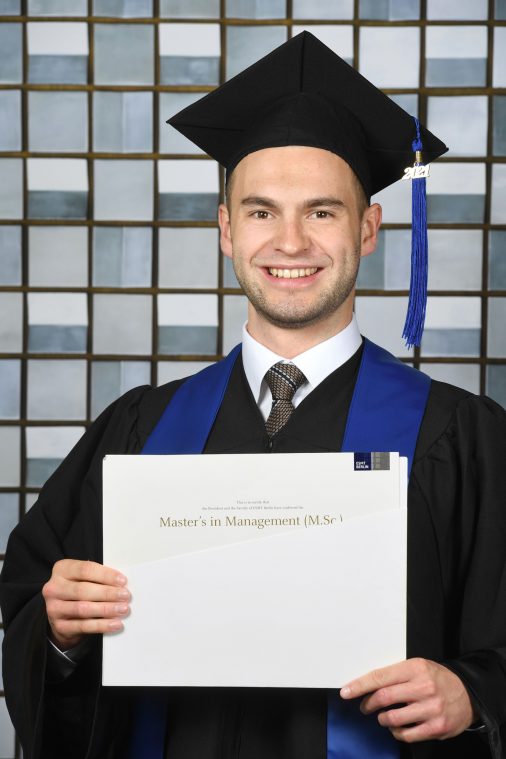 From experiencing the corporate world at Allianz, to consulting for the early-stage startup Generous Designs Africa in Uganda, there is no doubt that the last two years have been nothing but a crazy development journey for me.
I want to thank everyone who contributed to making this an incredible experience. "As much as we have been going through thick and thin, we have been going through physical and virtual. 'Unprecedented' is the word connected to our master's degree, including virtual internships, online classes, remote Social Impact Projects, and long-distance friendships." With these words, Linde Wang and I had the absolute privilege and honor to speak in the name of the MIM Class of 2019-2021 at our graduation ceremony.
Still, the most exciting part about this, is that my development journey has JUST started. I am feeling charged with energetic butterflies looking at the endless opportunities, challenges, and adventures that are just waiting for me to explore them.
Linde Wang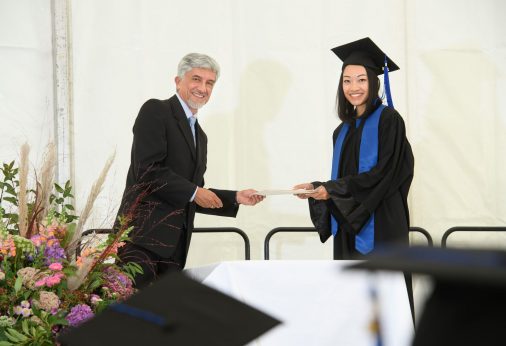 On a beautiful, sunny day about three weeks ago, I graduated with honors from ESMT Berlin, receiving a Master's in Management (M.Sc.) degree.
The last two years were challenging yet rewarding, fast-paced yet long-lasting. ESMT encouraged me to intern at Microsoft and support the digital transformation in Germany during pandemic times. ESMT enabled me to apply my marketing and design thinking skills to help OPAS Puerto Rico as part of a Social Impact Project. ESMT trusted me to lead a team of 39 as the DigitalFuture Summit at ESMT Berlin Chair to connect more talents with leading organizations.
Thank you to everyone who contributed to a truly memorable time – the most valuable gift that ESMT imparted to me is the diverse, powerful network of people that continues to inspire me.
To quote from the graduation speech, which I was honored to give alongside Peter Smedås: "We are so much more than stereotypical management students. We all faced an unprecedented Master's program that has never happened before, and we overcame it. We are all capable of taking on any obstacle that may lie ahead. Be it any country in the world, or any time of the year. The Power of Now is in our hands."