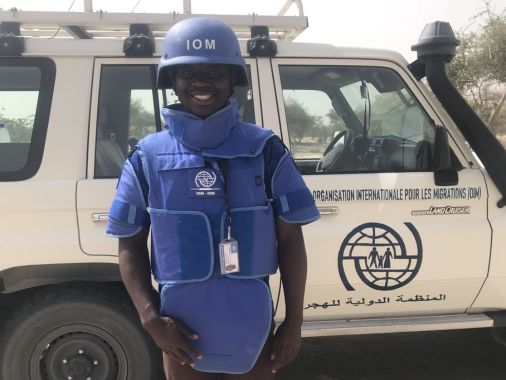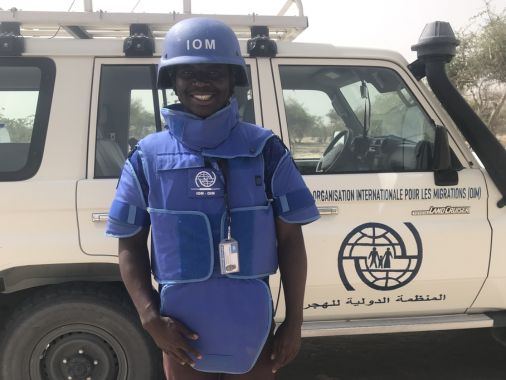 Bettrand Ewane Mbonteh is from Cameroon and successfully completed the Industry Immersion Program (IIP), a tuition-free, six-month initiative launched in 2017 through a collaboration between ESMT Berlin and the African Institute of Mathematical Sciences (AIMS). This program, taught pro-bono by ESMT faculty members, equips more than 100 mathematically skilled graduates annually to smoothly transition from academia to the world of business. We caught up with Bettrand to hear about his experience.  
Tell us about your background
I come from the South-West region of Cameroon, one of the English-speaking regions that have been ravaged by sociopolitical conflicts between the State Security Forces (SSF) and the Non-State Armed Group (NSAG) since 2016.
After obtaining my GCE Ordinary Level in my hometown of Bangem, I studied at the Cameroon College of Arts, Science, and Technology (CCAST) in Bambili, earning my GCE Advanced Level (AL) in 2010. I then completed a four-year electrical engineering program at the University of Buea in 2014. I did some internships and voluntary work and went on to work as an assistant ICT technician and teacher before starting a one-year master's degree in mathematical sciences on a fully funded scholarship at AIMS, in Cameroon.
Why did you apply for the Industry Immersion Program (IIP)? 
I chose to pursue a degree in engineering during my undergraduate studies with the aim of harnessing engineering tools to address societal challenges. My goal was to make a meaningful and positive impact on society while also improving my own quality of life.
During my master's, I enrolled in a course that focused on entrepreneurship, which helped me to understand the intersection between engineering and business. Upon completing my studies at AIMS, I discovered that the newly launched IIP was exactly what I was looking for. It was all about blending engineering and mathematical knowledge with the business world.
The program aimed to teach students about business concepts and soft skills, and then send them out into the industry to work on real projects in a 12-week internship program.
How are you using the knowledge gained from the IIP in your current work?
I work as a data analysis and reporting officer at the International Organization for Migration (IOM), which is part of the United Nations System. The IIP had a significant impact on developing my soft skills, particularly in areas like cultural awareness, inclusion, and diversity. These skills have proven invaluable in my work with communities affected by conflict, in which I've been working with since 2018.
For example, I am currently working in the Lac province in Chad where the primary affected population comprises the Boduma and Kanembu ethnic groups, whose culture is totally different from my own, however, I have been able to work effectively while respecting their culture and way of life.
The practical experience has been instrumental in my capacity to address real-world challenges faced by displaced populations. During my internship with the IIP industry partner, I had the opportunity to move through various organizational units, which deepened my understanding of their interconnection and how to effectively collaborate with them.
This knowledge has proven crucial in my work when addressing the needs of displaced persons, as understanding the inner workings of different organizational units helps in planning and executing interventions efficiently. In humanitarian efforts, even slight delays can have severe repercussions for the affected population, emphasizing the importance of a seamless operation.
What are your key takeaways from the program? 
I often share with my friends that the IIP had a more significant impact on my career than the AIMS program that initially led me to it.
The program gave me an understanding of how business strategy directly influences overall business growth. It opened my eyes to the strategic aspects of organizational development. I also gained valuable insights into how certain aspects of organizational behavior can shape an organization's values and foster a positive organizational culture.
Most importantly, what truly stood out for me was how the program placed itself at the intersection between technical skills and business skills. This blend of expertise was precisely what I needed to thrive in my career.