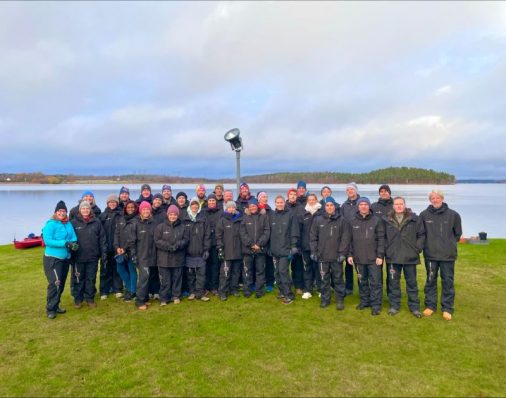 Franz Rentel, Hugo Sanchez, Niklas Weiler, and Liva Zepa, recently completed the first module of the Executive Transition Program. We caught up with them to hear about their experiences of the program so far. 
Tell us about your Module 1
Liva Zepa: Firstly, I'm extremely honored to have been selected as a Women's Scholarship recipient, receiving 100% tuition to attend the Executive Transition Program at ESMT Berlin! The scholarship supports exceptional women in senior leadership positions. 
I spent 8 awesome days at the beautiful venue Skytteholm, near Stockholm with 30 other great leaders from all around the world. We dove into core business functions, stepped into general manager shoes, practiced evidence-based decision-making, tackled team challenges, received support from each other through peer consulting, and so much more!
Franz Rentel: The first module focused on honing our general management skills – such as operations, supply chains, sales and marketing, and finance management.
One of the highlights was a day visit to the Stockholm School of Economics with Hanna Setterberg taking us through the details of sound financial planning and analysis, and reminding us that sustainability and pricing in externalities are crucial.
Another highlight was the business simulation exercise by Nan Guo where we worked in teams to manage a global mobile technology company through technological evolution in a fast-paced operating environment.
Hugo Sanchez: It was an intense week of discussions, challenges, learning, and a lot of fun! The module included many hands-on tools to use in different business areas and topics.
Thank you to Sandra Vincke and Jan U. Hagen for organizing this module, to all the professors, and especially to the team for engaging during these intense 8 days and sharing great experiences during the kayak group challenge. I'm looking forward to module 2!
What are the key takeaways from the module?
Hugo Sanchez: My key takeaway was how the right levels of accountability and psychological safety can unlock people's talent in learning organizations.
Niklas Weiler: My Top 3 takeaways are:
1. You have to be a "Learning Organization" in order to become a high-performing organization. As a team, we can achieve this by speaking up at the right time and avoiding a "hint and hope" approach. To get to the learning zone, psychological safety and accountability need to be balanced and at best maximized. It is tricky but can certainly be done.
2. The art of decision-making is a crucial enabler for any successful manager and leader. Matt Mulford pushed us to be more rigorous to make our implicit theories explicit and taught us to avoid ignoring base rates and test the no-hypothesis to increasingly base our management decisions on evidence and less on experience or pure gut feeling.
3. To follow another evidence-based management approach (never ask for recommendations, ask for balance sheets), you need to know your financial analysis tools. Hanna Setterberg took us on a captivating ride through the nuts and bolts of sound financial planning and analysis.