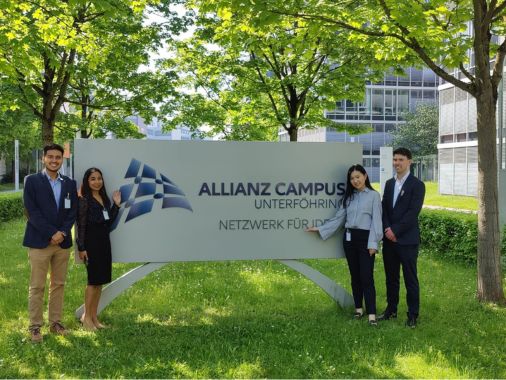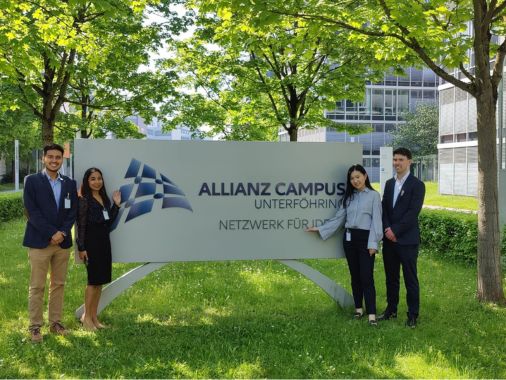 In May 2023, full-time MBA student Yanyan Ma and three of her classmates participated in the Allianz Case Competition 2023 and successfully advanced to the final round. Organized by Allianz Consulting, the competition aims to provide business school students with the opportunity to solve real-life business challenges. 70 applicants from 16 business schools around the world applied to take part this year, with only five teams making it to the final. We caught up with Yanyan to hear about her experience.
Who was part of your team?
The ESMT Berlin team consisted of four full-time MBA students: Diego Cisneros from Peru, Siti Daud from Malaysia, Cian Ryan from Ireland, and me from China. We come from diverse backgrounds in finance and investment, supply chain, entrepreneurship, and brand product management.
Why did you apply to take part in the competition?
Our motivation for entering the case competition was to add a classic and unforgettable experience to our MBA journey. We aimed to harness both our prior work experiences and the knowledge gained during the MBA program, enhance our leadership skills through collaborative teamwork, and deepen the friendship among our classmates. Of course, there was another driving factor, we have loyal and avid fans among our team members, and one of the prizes for the competition was a ticket to the Allianz Arena in Munich!
How did you prepare for the competition?
To secure favorable outcomes in the competition, we started preparing from the moment we applied. We began with conducting research on the insurance industry and familiarizing ourselves with the framework, models, tools, and structure of consulting solutions. After reaching the finals, we also focused on practicing our proposal and presentation skills. Alongside writing the report, we dedicated time to conducting extensive research to respond to any questions from the judges.
What are the three key learnings you have taken from this experience?
The following three points stood out for me.
1. Use your work experience advantages wisely: Although the industry and the topic were unfamiliar, our past work experience proved invaluable in our competition preparation, forming a solid foundation which we built upon. For example, our project management experience made the preparation and task delegation more effective, while engaging industry experts provided us with more in-depth insights.
2. Detailed and practical solutions: Our MBA training also contributed significantly. For example, during solution discussions, we consistently broke down and reworked our ideas to ensure our solutions could withstand scrutiny and be applied to real-world situations. By drawing on our previous work and project experiences, we assessed whether the solutions were feasible and commercially valuable.
3. Diversified perspectives: After seeing other teams' presentations in the final round, we noticed something unique about ours. Unlike the others, our proposal included the perspectives of sustainable development and social impact in the areas of user profiling and product recommendations. This made us stand out. We are very grateful to ESMT for the emphasis on such topics. The MBA curriculum includes many courses and campus activities that cover this aspect to help us reach out to relevant social resources and professionals.
What challenges did you face, and how did you overcome those challenges?
Of course, there are many challenges that arise when competing.
First, you need to find a balance between your academic commitment and the competition. We were preparing for the competition in April and May, one of the most intense times in terms of MBA workload. After completing classes, after-school assignments, and preparing for exams, there wasn't much free time left, so we had to prepare for the report by forgoing sleep.
It was challenging to make so many sacrifices. On the day before the deadline for the preliminary round, we were still brainstorming and discussing ideas in the middle of the night to optimize the report, and in the end, we stayed up almost all night before finalizing the proposal to the satisfaction of every member of the group. During our final, the school organized a company visit to Munich. So, while our classmates enjoyed the sunshine and beer gardens, we found ourselves confined to our hotel room preparing for the final. On the day of the competition, we missed the opportunity to go on a company visit with everyone else.
The rules of the competition required us to quickly learn about a completely new industry and its user population in a short period of time. None of us had any experience in the insurance industry, so we had to start researching from scratch and quickly grasp the basic information and data about the insurance industry, market, and users. In addition, compared to other teams, we had no prior experience in consulting firms, so we had to cross the river by feeling for stones, and learn as we went along how to complete and present a professional consulting report.
Lastly, the cooperation between members with diverse backgrounds was challenging at times. We come from different cultures, industries, and functions, with very different working habits and communication styles, so it was inevitable to have various differences and disagreements when working together. However, with good communication and mutual understanding, we were able to work well together as a team.
Would you recommend the competition to students?
As a participant of the first Allianz Consulting Case Study Competition, I highly recommend that you take part in this event, as there are so many benefits.
For those who want to work in a consulting firm after graduation, you can experience the work content and intensity of a consulting firm, establish a connection with your target firm, and get the opportunity to communicate with HR and partners and have possible interviews.
Master students or students with little work experience are also encouraged to participate. It's a great opportunity to practice a number of skills that are needed in the workplace, such as cross-cultural leadership, project management, strategic thinking and execution, and so on.
For students who want to work in an international environment in the future, it is a good opportunity to practice cooperation and leadership in teams with diverse backgrounds. Although the design of our MBA program is also based on learning how to work together as a team to complete group tasks, the case competition is more difficult, time-critical, and competitive. With such intensity, you are better able to realize your potential and gain more self-awareness through feedback from others.
The MBA journey is not limited to classroom learning and on-campus activities, I encourage all students to fully explore different kinds of resources, find their passion and benefit from different and exciting experiences!