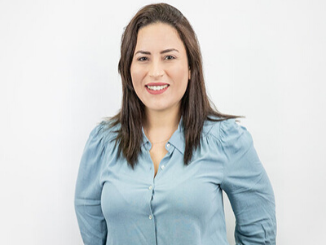 Tell us about yourself!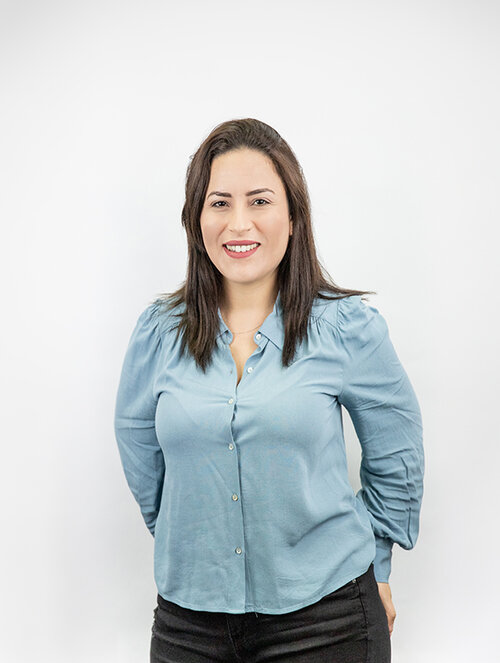 My name is Ines Amri. I am currently based in Berlin but grew up in Gabes, a town in the south of Tunisia overlooking the Mediterranean. I started my career thirteen years ago and haven't stopped evolving since then – from a public servant (English teacher), to an NGO founder, a think tank managing director, an international consultant, and, lately, a social impact strategist for Amparo, an award-winning start-up in Berlin.
Why did you join Amparo?
Amparo's idea kicked off in 2014 as a design-thinking project by a group of students and teachers. The challenge was to create a sustainable, human-centered, and affordable technological solution that could facilitate access to mobility to the 90 percent of amputees without proper prostheses who are mainly living in low- and middle-income contexts. In Germany, orthopedic technicians who do the traditional custom-made sockets are retiring. Eastern Europe has never had enough well-trained technicians to make high quality prostheses. This is even less so in developing countries. Amparo's tech and training programs address the deficiencies in the prosthetics care infrastructure globally. Amparo's aim is to improve access to prosthetic care by developing, manufacturing, and distributing simple, fast, and mobile solutions that empower amputees. The company's vision inspired the development of the technology it holds today, enabling prosthetists to provide better care to lower limb amputees.
I joined Amparo to help set up Amparo Access, a non-profit organization that strives to take Amparo technology and expertise to low- and middle-income countries and to humanitarian settings. With Amparo Access, Amparo bridges the tech and skills gap by providing affordable access to easy-made prosthetics for amputees.
For example, Amparo's product Confidence Socket allows medical professionals to assess and fit amputees more efficiently, anywhere in the world and faster than ever before. Traditionally, building a prosthesis would require 8 to 12 hours in an equipped workshop. With the Confidence Socket, a prosthesis can be built in 1 to 2 hours and the necessary tools can all be packed into one sports bag. Further, volume changes to the residual limb often require building an entirely new prosthesis from new materials. The Confidence Socket can be re-molded up to 10 times to accommodate these volume changes. We can thus provide access to prosthetics to people who live even in the most rural and remote parts of the world and at huge savings for health care systems.
What does "human-centered design" mean here? 
In a nutshell, Amparo's unique approach is to simplify prosthetics making and make mobility accessible. Amparo goes for simplicity while others go for high-tech. Amparo goes for access while others go for luxury and niche. Amparo goes for those still disregarded while others go for those already well provided for. Currently, new technologies in different industries are developed and designed to serve those who can afford to "upgrade." They are not centered on those who lack access in the first place.
Sustainability is also an industrial trend. What's your take on the topic? 
As the COVID-19 pandemic outbreak is taking longer to solve, sustainability is gaining more credibility – not only among the public, but also within business and government. This is probably the advantage that we will gain from this collective traumatic experience. Right now, we can see the true human cost and must face, with humility, the limits of human intelligence and technology to immediately "save" us.
We should be more proactive in deconstructing previous practices and use environmental sustainability and socio-economic impact as guidelines for any policy decision making. More importantly, understanding that our vital issues are common across the globe, we need stronger international cooperation led by responsible leaders – leaders with high integrity, who are outspoken, and who understand that the stakes are high. We need innovative systems that are structured around human needs and not international corporate profits. We cannot defeat this virus in Germany if it is not also solved in India, and we cannot wish for a habitable planet in 2050 if we do not act collectively now. When all voices – business, government, and civil society – are working together thoughtfully, societies can advance as a collective. Only then can we see amazing results. Sustainability should not be seen as a cost but as an investment in the wellbeing of our society and the environment.
Promoting sustainability, ethics, and socio-economic impact is something I highly appreciated during my Executive MBA classes at ESMT. Reinforcing our human values through education and open discussions is extremely difficult, and the trade-offs are high. But educating business executives on responsible leadership is the first stepping stone for a more sustainable world.
How did your decision to earn an Executive MBA at ESMT affect your post-graduate career? 
I made the decision to join the program in 2017 while I was the managing director of a think tank that works on producing empirical-based policy advice to bring the Maghreb [northwest Africa] region into a more economically integrated union. I needed to get answers to the many issues I faced as a manager, whether regarding human resources management or operational and strategic decisions. The program challenged me to reconsider my leadership style, work culture perceptions, and my decision-making processes.
For example, I learned that I definitely thrive within hybrid organizational structures that are neither strictly hierarchical nor flat. I need to feel that my insights are valuable and that I have room for innovation and creativity, even within some structure. I also came to value the strong role of work culture. You can build a structure that is able to manage diverse complexities, and still celebrate and respect the individual uniqueness and contribution. With the current rise of digital platforms, companies are more inclined to organize around team-based or project-based structures. That's how we do it at Amparo, and I do like it so far.
I actually did not have the chance to properly reflect on and plan my post-graduate career path. Lucas Paes de Melo, Amparo's CEO and my fellow classmate, approached me on graduation day to invite me to join his team. Knowing how significant the mission he has been working on, I immediately accepted, without any second thoughts. So the ESMT program has taken my career to a new international level. Though relocating to Berlin was not something I actively sought, I am grateful for the opportunity to live and work in such a vibrant, multicultural, and unique city, where innovation and disruption is the norm.
As an active ESMT alumna, what have you enjoyed and what you would like to see for your fellow alumni? 
I have enjoyed belonging to such a diverse community of leaders and professionals, and helping each other's growth and development – be it personally or professionally. I know it might sound naive, romantic, or even foolish, but it would be great to have a platform that gathers alumni and facilitates thought-provoking discussions around current hot topics like climate change, sustainability, the social contract, pandemics and the role of private sector, social cohesion, international cooperation, healthcare access, and leaderships in times of crisis, to name a few. As aspiring leaders, learning from each other and staying on top of these intellectually stimulating topics, which are affecting our lives and even existence, is an opportunity that we should not miss. 
This article was originally published in the ESMT Update, summer edition 2020. Read the ESMT Update here.