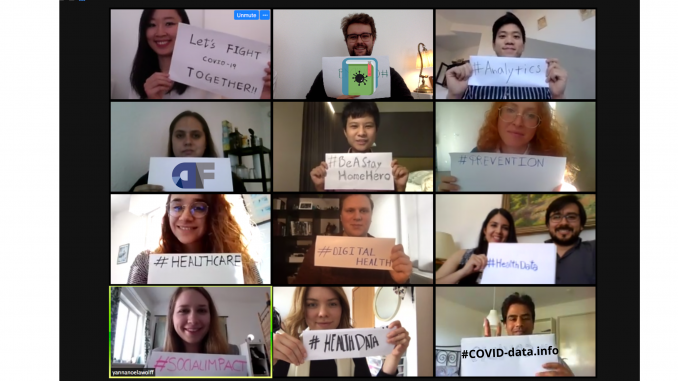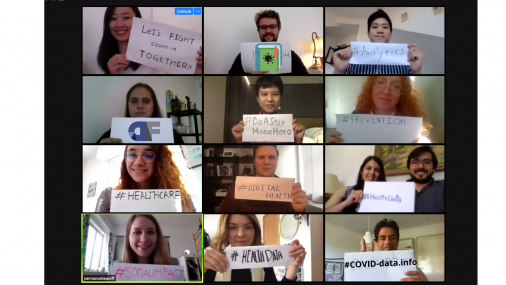 With collaboration and co-operation coming to define the period in which we are living, a group of students from ESMT Berlin has created an entirely volunteer-led initiative to fight the Coronavirus pandemic by filling a critical gap in our knowledge about the disease. Now, thanks to the business school's network of connections, this project is poised to take a significant step forward by partnering with a major German healthcare provider.
At the start of the year, many of the Master's in Management students at ESMT Berlin were planning to travel to various parts of the world to complete their Social Impact Project, a requirement of the MIM program. Those plans were, of course, soon changed by the arrival of quarantine and lockdown rules throughout Europe as the COVID-19 virus spread rapidly across the globe. It was then that a small group of students specialising in business analytics began to consider how they might be able to apply their skills in helping to fight back.
They quickly began investigating what was causing the disease to spread so quickly. Several members of the group are from Taiwan, which was much quicker in its response to the situation compared to most other countries due to the experience from the SARS outbreak in 2003. Through their connections back home, the group were able to access information about what was happening this time. It became clear that the transmission of COVID-19 was strikingly different to that of its predecessor, and much more difficult to contain. However, the only reliable data available came from those who already had severe symptoms that required hospital treatment.
A critical gap existed: what about people who were suffering at home with mild symptoms and therefore hadn't been tested? How did those symptoms progress, and at what point did sufferers require medical attention, or recover unaided? The team realised that applying data analysis principles to this kind of information had the potential to deepen the understanding of this new disease, and help manage healthcare resources, PPE and testing more effectively. Ultimately, such knowledge could suggest new ways to limit infection rates until more effective treatments become available. So the non-profit project Covid-Data.info was born. A web application was quickly developed which includes a journal in which people can record their symptoms (or lack thereof) before the illness reaches the critical point.
The students sought help from family and friends and promoted the idea on social media. The word began to spread around ESMT, a community with a friendly and open culture. The group of five became the nucleus of a project which has now grown rapidly to include over 50 volunteers from many countries and disciplines: virologists, application developers, data scientists, marketing specialists, technical authors, designers, promoters, and project managers.
Some of these newer volunteers also have connections with the business school, past or present, as employees or students; many do not. All are driven by a desire to do something to help at an important moment in history and have embraced the chance to use their skills in a project with the potential for social impact on a scale rarely seen.
As the team has grown, the five initiators have had to rapidly adapt from a "start-up" mentality, where everyone did everything, to creating a degree of structure which ensures that the work is managed properly and everyone has a chance to make a meaningful contribution. There are teams devoted to data analysis, software development and marketing, as well as IT support, project management and strategy functions. Ensemble meetings are held regularly with as many of the volunteers as possible to make them feel welcome and included. Functional groups communicate through online channels daily. And it all happens, of course, while most people have to stay at home.
One thing has remained constant throughout the project: the backing of ESMT Berlin. All agree that this has been of vital importance for several reasons. Firstly, and perhaps most importantly, the business school has provided the legal advice needed for a project which intends to handle large amounts of personal data. The responsibilities that this entails cannot be ignored or underestimated, even in this time of crisis, and the fact that Covid-Data.info is a non-profit endeavour makes the legal support of the institution essential to its success.
The second major benefit has been the opportunities for promoting the project that the school has offered, thanks to its extensive network of business partners and alumni. Being able to align the project with a trusted and respected brand has given Covid-Data.info enhanced credibility, which has already led to a major step forward. Charité, one of the largest university hospitals in Europe, is now in discussions with the project team to develop the application further.
Last, but by no means least, the lead team have been grateful for the encouragement and moral support they have received from the business school, who clearly want the project to succeed. This support is sustaining them through what would be a challenging time in any case, but is doubly so now that they are combining the running of Covid-Data.info with their ongoing studies in a time of crisis.
Their efforts continue to pay dividends. A smartphone app is in development to complement the existing website, and the team hope that they will be able to hand the project over to a suitable operating organisation later this summer. In the meantime, all the volunteers continue to devote their free time to fighting the pandemic by applying one of the most trusted principles in science and business – that knowledge is power.
Acknowledgements: Thanks go to Soeren Tesdorpf, Carol Huang, Joseph Shu, Hsin-Chih Lee, and Pablo Fernandez for their help with the writing of this article.