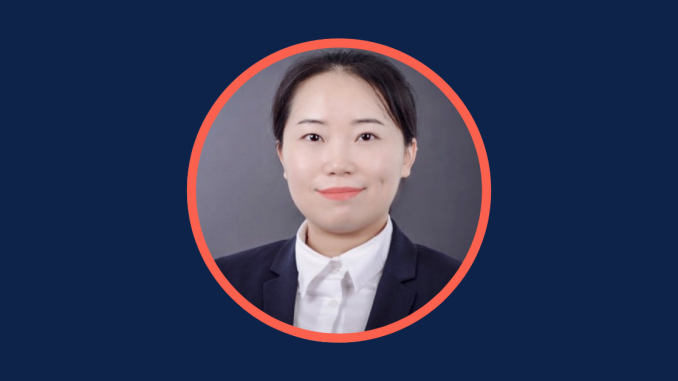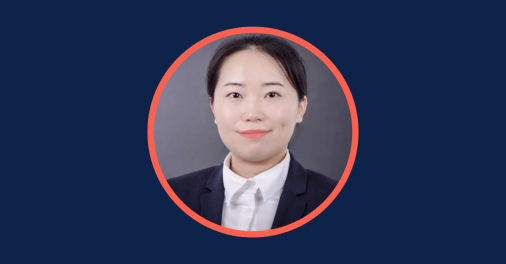 ESMT Berlin launched the Global Online MBA (GOMBA) program in 2021, and Juanjiangmeng Du joined the program's first cohort of students. Ju has a PhD in genetics from the Center for Genomics at the University of Cologne, where she worked as a postdoctoral fellow. She now works as a data consultant at Merck Group, parallel to her studies at ESMT.
We caught up with Ju to find out why she chose the GOMBA program, what the online experience is like, what challenges she faced so far, and more.
Why did you choose the GOMBA program? Did you have any concerns that a part-time program would not be as valuable as a full-time one?
It has always been my dream to pursue an MBA degree and expand my business knowledge. As far as the degree is concerned, there is no difference between ESMT's Full-time MBA and Part-time MBA programs (including part-time MBA and global online MBA), as both are MBA degrees but completed in different timeframes. Personally, I think employers pay more attention to whether students can turn their knowledge into problem-solving skills than program types.
In my case, I did not have the time to dedicate one or two years to studying full-time, therefore, an online program works best for me.
ESMT became a very familiar name to me, being one of the few business schools accredited by AACSB, AMBA, and EQUIS, and has been ranked very highly by the Financial Times in recent years. So as soon as I read that ESMT launched a Global Online MBA program, I applied immediately and became one of the first intakes.
After enrollment, I also realized that a part-time MBA has a big advantage – prompt practice. We can test what we have learned in the classroom in the workplace, receive feedback, and keep improving. Therefore, if a company supports its employees to pursue an MBA, I think a part-time one will bring more timely benefits.
Networking is an important part of pursuing an MBA degree, how does the GOMBA program promote networking?
ESMT has a number of measures in place to encourage interactions between students and alumni, recruiters, and companies.
Every winter, the school hosts an (online) student club fair where students can get to know each club's activities and join the ones that interest them. The clubs cover a variety of topics including consulting, technology, entrepreneurship, and investment.
ESMT also builds bridges between students and recruiters by collaborating with companies. For example, a company's recruiters can post jobs on the ESMT career portal JobTeaser and reach graduating MBA students. Students also receive focused job postings and can interact with recruiters.
To connect students with companies, ESMT organizes company visits (e.g., Industry 4.0 companies) for students taking GOMBA electives. ESMT also holds frequent forums and lectures, which students can choose to attend on-site or online and have conversations with the guests.
I once attended a talk given by SAP Co-CEO Jim Hagemann Snabe. I still remember two key takeaways: first, he encouraged young people to dream big and develop a sense of mission and conviction. Second, he mentioned that sustainability is a huge new opportunity and that startups should seize this opportunity and work with large corporations to facilitate their business transformation and make an impact.
Overall, I find that ESMT makes a big effort to help students to expand the social circle that can advance their careers.
How do you feel about taking online classes?
The GOMBA program uses an advanced teaching platform, the Hub, with different teaching methods, including live classes with professors and tutors, pre-recorded classes, readings, and quizzes. After five months into the program, I find the classes quite interesting, as well as efficient because I can set my own pace of learning.
Moreover, GOMBA study has helped me to grow my mindset, develop strategic thinking skills, and taught me to approach problems from multiple perspectives.
Do you worry that learning online can be quite lonely compared to traditional in-person classes?
Regardless of the way of teaching, learning is always a solitary process, as no one else can do it for me.
However, at the beginning of each module, GOMBA program managers randomly assign students to different study groups, and each group needs to submit assignments regularly. There are many opportunities for group members to communicate. In addition, our class chats online almost every day and has a lot of discussions about study and life.
What career development support does ESMT offer for the GOMBA program?
In terms of career development, ESMT's career services team provides many online resources to help students better prepare their job applications and expand their social networks. Each month, the director of career accelerator programs communicates directly with GOMBA students. Also, if students want to do systematic and in-depth career planning, they can always contact ESMT's career coaches for one-to-one coaching.
Every January, ESMT also holds an on-campus job fair. In the job fair this year, more than 40 companies participated in the campus recruitment. ESMT students and alumni can apply for positions on-site or make appointments for one-on-one interviews with employers.
What is the biggest challenge you have encountered so far? How did you deal with it?
I sometimes tended to develop the illusion of fast learning and did not make good use of the material provided by professors and tutors. Without taking the time to reason, reflect, and let the knowledge sink in, what I learned was only superficial and easy to forget. When I realized this, I tried to remind myself to use the fragmented time for learning, which could nudge me to review what I learned last time and overcome the forgetting curve.
What is your impression of the ESMT faculty?
ESMT has a very strong faculty. The nine professors who have taught us so far are not only distinguished in their fields but also very authentic and genuine. Each of them made a deep and lasting impression on me.
One thing that touched me was the dedication of the GOMBA faculty, program manager, and director. They actively seek feedback through various channels, meet regularly with the GOMBA student committee, and do their best to solve the problems raised by students. With such dedication, responsibility, and care, I believe that the GOMBA program will grow a good reputation and become a leading brand of online MBA education.
What advice do you have for applicants?
First of all, you need to try to set aside 15 hours per week for study to make full use of what the GOMBA program offers.
Second, the program is modular and flexible. You can earn the degree in as little as two years. However, if it is challenging to keep a work-study-life balance, you can also complete the program within five years.
Finally, there are a lot of case discussions in the course. You will get the most out them it if you can bring your own work experience into the case discussions.