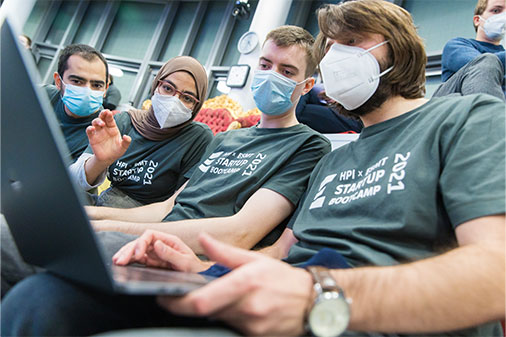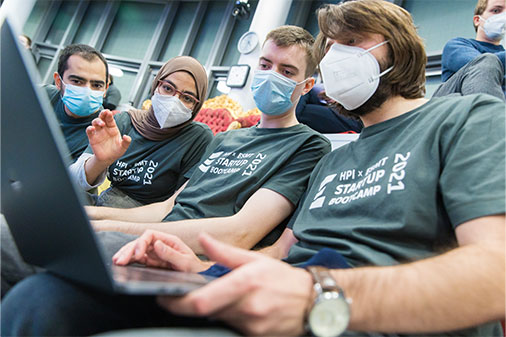 From the need to provide online security for those working from home, to protecting Industry 4.0 processes, to safeguarding patient data that is going digital – cybersecurity is becoming increasingly important as digitization rapidly advances. Threats to cybersecurity are of real concern to businesses and to our society.
That is why we teamed up with the HPI School of Entrepreneurship to bridge the gap between science, corporations, and entrepreneurs. Together we launched the ESMT x HPI Startup Bootcamp: Innovating Cybersecurity, a three-day event bringing together industry experts, thought leaders, and universities at the interface of business and technology to tackle the challenges and find innovative solutions.  
Students from both ESMT Berlin and HPI were divided into teams to explore challenges in cloud security, incident management, and mediation between business managers and cybersecurity analysts. The event was supported by our corporate partner SAP, who provided the participants with real-world challenges. The team with the best pitch won a prize of €1,000.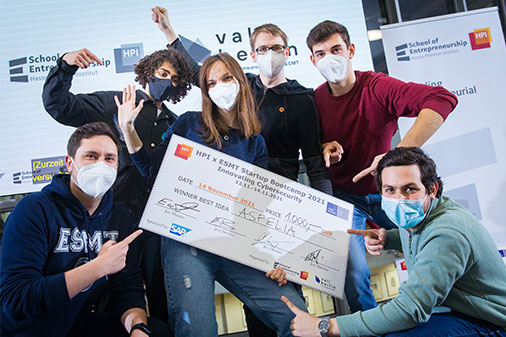 We caught up with three ESMT students who participated in the event to learn about their experiences. Pedro Dias is a full-time MBA student and Vitaliy Ishchuk and Andrea Schindler are master's in management students.
Why did you take part in the bootcamp?
Andrea: I took part in order to find out what draws so many talented individuals to the world of cybersecurity and innovate ideas to improve its systems. I was excited to network with industry experts, gain market knowledge, and experience the beautiful HPI campus in Potsdam.
Vitaliy: The most important reason for me was to gain experience working in sprint-like working conditions with an unfamiliar team. Even though the instruments and processes may be familiar, effective collaboration with diverse teams requires practice. Besides, it was a good chance to network with IT talent from HPI who possess completely different backgrounds in contrast to ESMT students.
Pedro: As someone with the hopes and dreams of one day bringing to life my own business ideas, this bootcamp presented itself as a great opportunity to learn from industry experts about relevant entrepreneurial topics, business development, and to work on a business idea in a focused and intensive manner with the possibility to network and get to know other participants. In addition to this, cybersecurity is a subject close to my heart as I've worked in this industry in the past and wanted to be exposed to the latest trends and learn from leaders in the field.
What was your highlight from the experience?
Pedro: For me, the highlight was the actual process of the experience. Bringing together students with complementary skills and backgrounds, connecting them with industry experts, and together creating and realizing a new business idea (including a prototype and a pitching session) was something incredibly enriching. Not forgetting that all of this was achieved in only three days.
Andrea: My highlight from the experience was meeting different personalities, not only from HPI but also from the entire SAP Ecosystem. Bringing business schools and entrepreneurial tech talent together has been an insightful and enjoyable experience and has broadened my horizon with regard to both domains.
Vitaliy: To me, the most vivid experience was pitching. As my team member said, "this event is a pretty safe environment to train your pitch". Indeed, it was. However, the Jury Committee comprised of highly professional experts creates tension and a spirit of really fighting for seed investments. In other words, you train in a challenging environment yet without significant risks.
What are the key learnings/takeaways from this experience which you will use in the future?
Andrea: I was able to tell that the entire staff put a lot of effort into constructing a motivational and enthusiastic environment. I realized that my group bounced different ideas off each other and found a great solution, which had input from every individual within the group. I hope to see my team in the future to collaborate on further ideas and use the creative design thinking and pitching tools in my future studies at university.

Pedro: One of the most relevant takeaways was without a doubt the importance of execution. How fast and how well a team can move forward surrounded by time constraints and resource limitations, adapting quickly to the challenges without losing focus and enthusiasm on building solutions that customers love.
Vitaliy: Firstly, always engage industry experts during the development of your ideas. This may save months and years of work. Secondly, do your best to meet people with different backgrounds! The more you are different, the more you may enrich and accelerate each other. Finally, special learning of my team – never give up just before finishing. You never know whether your idea will work out or not.