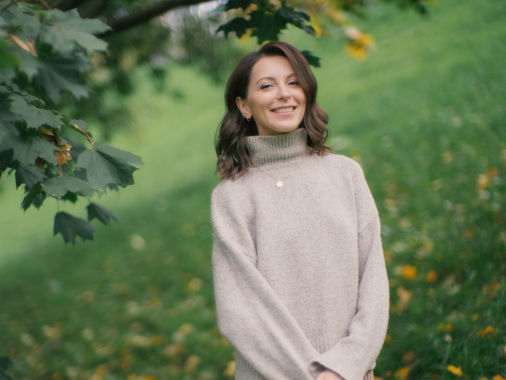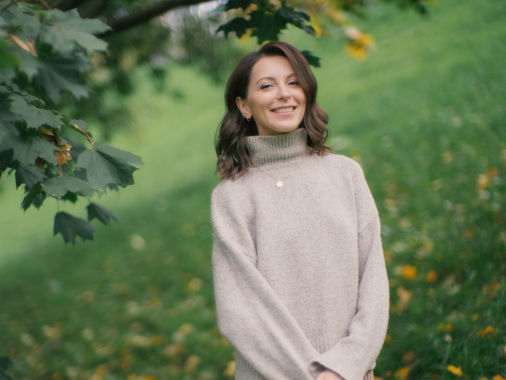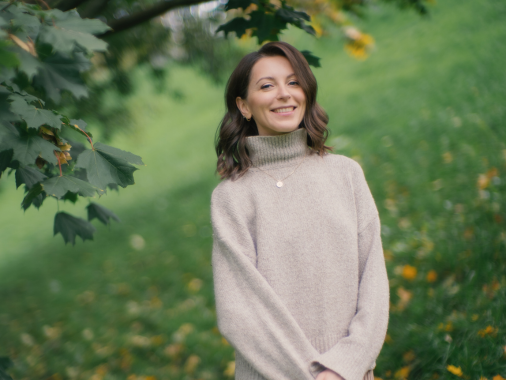 My name is Margarita Fadieieva, and I am a Global Online MBA student at ESMT Berlin. I feel honored to be one of the ten Ukrainian females who received the BMW Group Fellowships for Ukraine.
With more than a decade of experience in customer care, project management, team leadership, and relationship management, I was eager to learn the skills necessary for modern decision-making and become a better strategic leader. Enrolling in the Global Online MBA program was a unique opportunity to learn from a diverse international business community and network with like-minded individuals in an innovative place like ESMT.
ESMT is a breeding ground for new ideas and future leaders, which is precisely what Ukraine needs in its post-war recovery. Both personally and professionally, I am committed to contributing to the Ukrainian transformation. I intend to enhance my profile through new tools and knowledge and establish new professional connections to become a bridge between the international business community and Ukraine.
Aside from rebuilding Ukraine, I have another important mission – to be a role model to my daughter. Pursuing an MBA from a top-tier business school will undoubtedly inspire her and, hopefully, other girls of her generation to pursue their dreams and improve the world.
Career development through the Global Online MBA
As a Global Online MBA student, I find the opportunity to learn and grow immensely rewarding. The process of self-reflection and comparison to my "last year's version" allows me to see how far I've come and how much I've developed both personally and professionally. This program is precisely what I need at this point in my career and personal life, and I am grateful for the opportunity to pursue it.
Studying while juggling multiple responsibilities can be challenging at times, but the benefits far outweigh the difficulties. Not only does the program keep me structured and organized, but it also hones my project management skills. Collaborating with peers from different countries and cultures within study groups has allowed me to work on projects and assignments as part of small teams, gaining valuable experience in distributed team collaboration.
Moreover, engaging with professionals worldwide through forums and discussions has expanded my perspective on business management, providing me with a deeper understanding of the complex issues facing today's organizations.
Another significant benefit of the program is its networking opportunities, both during our studies and long after graduation. Building relationships with peers, faculty, and alumni has already proven to be a valuable asset in my personal and professional life.
Furthermore, the program enables me to explore different dimensions of business management, equipping me with the necessary skills to be a more effective leader. I am also learning to articulate my values actively, helping me better understand myself as a manager and align my decisions with my beliefs.
Finally, the program also gives me the tools to make wiser decisions under uncertainty. The behavioral perspective of the decision-making process taught in the course has helped me become more aware of the factors influencing my decision, allowing me to make more informed and rational choices.
Pursuing a Global Online MBA has been a transformative experience, and I am excited to see where it will take me in my personal and professional journey.
The benefits of online learning
At this time and age, we are privileged to have an opportunity to cross distances and achieve unfathomable things from the universe of one's room.
The online type of education used to be a last resort, a compromise if you will, whereas nowadays, it's becoming a new norm without cannibalizing on quality of outcome and efficiency.
I no longer have to waste time on practicalities or be subjected to the trade-off of forgoing my life and loved ones by leaving my town or country to pursue my dreams and aspirations.
What was once only available to a select few is now accessible to many thanks to the online format, which has leveled the playing field and given me an unprecedented ability to satisfy my hunger for knowledge as easily as I do my daily commute. Thus, I would go as far as to suggest that with continued advancement in technology and tutoring methods, forgoing the online format of studying would not only be counterproductive but could even be seen as an act of Luddism.
Moreover, for those of us who are less fortunate, who are constrained by impaired bodies or other issues beyond our control, the digital format allows us to confront adversity and maintain control of our lives in spite of illness, the need to care for a family member or even war.
It frees my mind, allowing it to break away from the confines of the present circumstances and push onward, maintaining the relentless motivation behind my life: the perpetual desire to improve.
My learning journey: what I have learned so far
I have completed two modules now and have acclimated to the rigorous pace of learning at the business school.
However, the winter was particularly challenging for me and all Ukrainians due to the continuous Russian attacks on civilians and infrastructure. It led to frequent electricity cuts and discomfort, which made juggling full-time work, studies, and family life more difficult, especially when coupled with the constant threat to our lives.
Despite various challenges, I have learned to adapt and remain focused under different circumstances. One particular experience comes to mind, which was when I was preparing for an important assignment during a prolonged power outage, lack of heating, and water supply due to another attack. However, with the support of my husband, I was able to come up with a clever solution that allowed me to utilize my time effectively. I could stay warm and concentrate on my work by connecting my laptop and a mobile router to our car's battery. This experience not only taught me valuable lessons on time management but also helped me to develop a greater sense of resilience.
Module 1: Managing in a connected world
The first module, Managing in a Connected World, aimed to raise our awareness of the necessary skills and qualities to succeed as a manager in today's globalized business environment. It helped us navigate the challenges of managerial roles and improve our ability to thrive in a connected world. The course facilitated our understanding of management, the qualities of a successful manager, and the critical question of our personal purpose as managers.
The course allowed us to develop skills such as critical thinking, intentional learning, effective decision-making, and communication in a virtual and multicultural environment. I found the program to be particularly effective in fostering reflection skills. It provoked thought and reflection on business topics and enabled us to evaluate issues from multiple perspectives.
Module 2: Making wiser decisions under uncertainty
The second module focused on helping managers make better decisions in their professional and personal lives. It elaborated on decision-making processes and enabled us to evaluate whether a decision was based on bias or heuristic, employing various tools and approaches to unbiased decision-making. One of the most surprising revelations was the connection between exceptional success and luck. It taught us that exceptional success may not always reflect exceptional merit but can often be the result of luck or initial advantage (disadvantage). This module saved me much time by providing insights into the limitations of so-called "inspirational literature."
I also enjoyed the course on Data-Driven Decisions, which helped me demystify analytical thinking by getting familiar with basic analytical tools and understanding the power and limitations of analytics.
My favorite course so far has been Ethics and Responsibility. This course prepared us to anticipate and address ethical issues in practice by exploring the ethical and sustainability-related implications of managerial decision-making.
Managers frequently make decisions that involve ethical components, especially when conflicting interests of different stakeholders are involved. This course enabled us to successfully manage conflicts and make responsible, sustainable, and ethical decisions. Moreover, it improved our ability to articulate our viewpoints effectively when faced with ethical issues at work.
The importance of an MBA for women in business
While I prefer to see myself as an individual first and foremost, I am aware that society still places great importance on gender. Unfortunately, business management has long been dominated by men, and it's only recently that we're starting to see some progress toward gender equality. However, this progress is slow, and many companies still operate under the assumption that male characteristics are the only ones necessary for success.
But this perspective is flawed. In reality, both male and female approaches are necessary for optimal business management. Only by recognizing and utilizing both sets of skills can a company achieve its full potential. As a woman in business, I recognize the value of obtaining an MBA degree to hone my skills and learn to apply them in a way that aligns with my unique vision and moral compass.
I believe that any organization that truly wants to succeed should prioritize the continued growth and development of its female employees, including supporting their pursuit of higher education. Ultimately, my hope is that we will one day live in a society where gender is no longer a factor in career success.