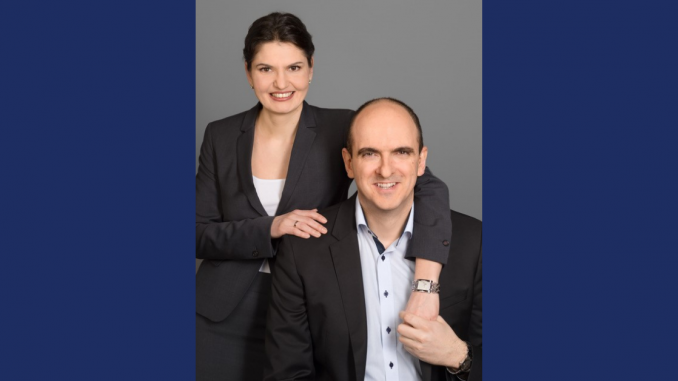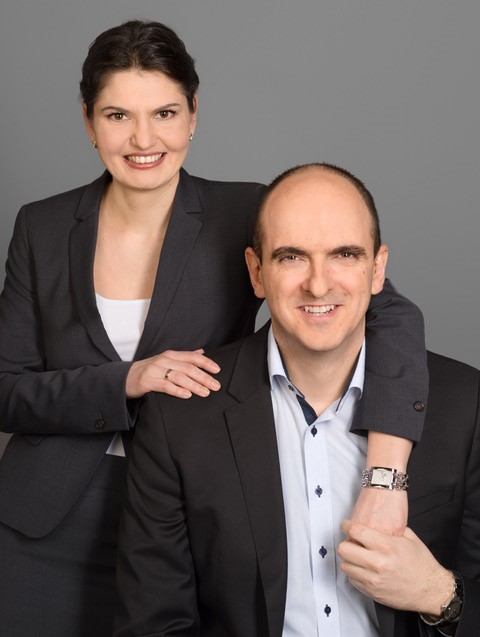 Ana Mineva, Executive MBA (EMBA) class of 2021, and Peter Minev, EMBA class of 2018, founded DGLegacy in 2020. We caught up with them to learn about their business and how they have put into practice the innovation and entrepreneurship skills they acquired during their studies at ESMT Berlin.
Tell us about DGLegacy and where the business idea came from.
Ana: The idea behind DGLegacy started to evolve in our heads more than 10 years ago. We realized that if something was to happen to us, no one knew about our assets, and it was almost certain that they would stay in the banks, insurance companies, online trading platforms, and other asset management tools, instead of reaching our loved ones.
We were searching for a solution for a long time and were surprised that we didn't find one. Storing information on paper at home or on a computer had the inherent risk that our loved ones may lose the documents or forget the login information. Most of the online vaults or password managers didn't have any digital inheritance capability. In the best case, they allowed the user to share information with their family members, who in turn had to remember the access details for the coming decades – far from an ideal solution.
We wanted to build a solution that enables people to securely catalog their digital and financial assets and passwords, and to designate their family members as beneficiaries. In the case of an unforeseen event happening, the beneficiaries are informed about the assets and provided with access to them.
We quit our jobs and launched DGLegacy in 2020. The customer need was there and the opportunity was big, with the potential to launch a global business. We already had years of managerial and entrepreneurial experience and were equipped with strong knowledge from our EMBA studies at ESMT.
Why did you choose ESMT for your EMBA?
Peter: The first big reason is that it is not exclusively focused on business, but combines both business and technology. All contemporary companies are technology companies – technology is their internal engine that fuels their business growth. Because of this, it's paramount that modern leaders have an acumen in both business and technology.
The combination of technology and business also makes ESMT a very good choice for tech entrepreneurs, who in contrast to business leaders, should not only understand technology, but also the business aspect of building a successful business.
Another reason is that the professors have a great combination of strong theoretical and practical knowledge and experience. This is a tremendous advantage compared to other schools, especially when the students discuss real-life practical cases from their careers, combining that with knowledge from their EMBA studies and the invaluable insights from the professors.
The third reason is the students themselves, who bring huge and diverse experiences, which helps bring many different perspectives when solving problems and building upon our common knowledge and skills.
Ana: Probably the most eloquent testimony of the value that ESMT brings is that Peter graduated first and recommended ESMT to me. Word of mouth is the best reference any business school or company can get.
How has the EMBA helped you with the business?
Ana: The fact that both of us studied an EMBA at ESMT has helped us a lot in the successful launch of the company. Despite us both having previous experience launching companies, DGLegacy was the first company that we launched with the idea that we are building a global service. While that is a very bold decision, it brings a lot of complexities, related with the various markets that we operate, legislation, and the overall inherent complexity of building a global business. The EMBA equipped us with the necessary tools to successfully launch that journey.
We can give many examples, but some of the disciplines that helped us a lot are:
Finance for executives – equipped us with the knowledge on how to make sound financial decisions, e.g., the amount of capital that needs to be raised, the advantages and disadvantages of different sources, the costs and risk related to them, and so on. It also taught us how to make investment decisions, knowledge which is essential for every entrepreneur, as the short-term survival of a company is a prerequisite for long-term success.
Corporate Business Strategy and Digital Business Strategy – helped us to become even more inspired about how to find new ways of delivering value to customers, and to understand how the competitive landscape is altering and may change the underlying economics of markets.
Design Thinking – a discipline that I would rather call "Design Doing", helped us to focus more on understanding the human need and problem framing. The customer centric approach helped us to rethink our whole product content and focus primarily on solving customer pain points, usability, and desirability, rather than pushing and selling features, which has positively impacted our product and company.
What are your plans for DGLegacy and how do you plan to grow the business?
Peter: Since founding the company last year, we are continuously evolving the product around the idea of enabling people to protect their financial and digital assets and passwords, and to ensure their loved ones are financially secure.
We've launched a legal package through a partnership with renewed law firms, which helps beneficiaries in the process of claiming ownership of their assets. This can be very complex when the assets are in multiple countries, or simply when the family members are not financially proficient with types of assets such as company stocks, company shares, stock options, bitcoins and etc. The legal support can be extremely valuable in these situations, guiding and informing the beneficiaries about the process and required documents for claiming their digital and financial assets.
This is a very long journey, but we believe that DGLegacy can help millions of people to protect their legacy and ensure it will be inherited by their loved ones.
What are the biggest challenges you have faced so far?
Ana: Graduating from our EMBA studies and having previous years of managerial and entrepreneurship experience, we felt equipped for success and well-positioned for launching DGLegacy.
Of course, we were not naive and knew that when launching a new company, we'll face many challenges. Probably the biggest challenges were that we are building a new service, unfamiliar to the market. Despite conducting numerous user reviews before launching, which clearly verified the problem that we are solving and the need for our solution, we still had to figure out the best go-to-market strategy, our target markets and customers, our acquisition strategy, partnerships strategy, and the positioning of the product.
Stemming from our previous experience and equipped with the strong EMBA knowledge from ESMT, we were tackling these problems with confidence. Only 7 months after the official launch of the product, we already have 5,000 users and based on that current rate, we aim to reach 20,000 by the end of this year.
Of course, we anticipate that we will encounter more challenges along the way, but this strong initial traction is giving us a lot of confidence for the future.
What advice do you have for aspiring entrepreneurs at ESMT?
Peter: Whenever you have complex and tough situations in your future entrepreneurial journey, always refer to your magic box of knowledge and skills, accumulated during your studies at ESMT. This can be the difference between success and failure in many of these situations. Also, always feel free to reach out to your fellow alumni – we are always happy to connect, help, and stay in touch with ESMT students and fellow alumni.