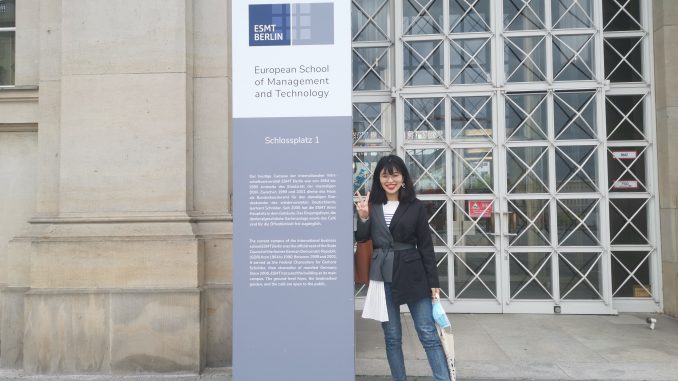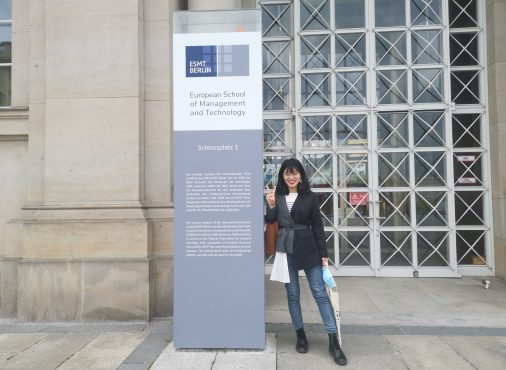 Shiyan Li is a Master in Management (MIM) student at ESMT Berlin who began the program in September 2021 and has just completed her first module. She graduated from Nanjing Normal University in China with a bachelor's degree in English and Russian. We interviewed Shiyan to learn about her MIM experience so far.  
Why did you choose ESMT?
First, in terms of the school and the program itself, ESMT is young and small, but its ranking in the Financial Times is steadily increasing each year, ranking 7th in Europe and 1st in Germany in 2021, so I believe it is a very promising school.
The two-year duration of the MIM program provides sufficient time to fully grasp the necessary knowledge in the business field. Moreover, it includes a mandatory six-month internship and potential working student opportunities in the second year, which enables us to have more professional experience before graduating.
As for the curriculum, there are two tracks and four specializations to pursue, and the course selection is also very flexible, especially the "hardcore" courses such as machine learning, data science, and the supply chain in business analytics specialization, which are very appealing to me. This perfect integration of theory and practice is the essential reason I chose ESMT.
Secondly, the school is located in the center of Berlin, Germany, a location with many advantages. The favorable economic situation in Germany, the large number of start-ups, and the open and inclusive environment in Berlin provide a lot of employment opportunities, especially for English speakers. So, in summary, ESMT's program and location are both exceptional.
You are finished with the first module of the program. Has the program lived up to your expectations so far?
From September to December 2021, from uncertainty and the excitement of stepping into the school, to gradual adaptation, my study and personal life in the past three months have been fulfilling, intense, and pleasant. ESMT has already met my expectations. The curriculum, location, and employment opportunities have not disappointed me, and I am happy to recommend the school to prospective students.
What classes have you taken so far and is there anything that has surprised you?
The first module started with the basic and theoretical courses of organizational behavior and judgment and decision making, progressing to courses in business economics, financial accounting, financial management, etc. We attended two courses at the same time each month, ended all sessions in about 4 weeks (7-8 classes), completed the final exams immediately, and then started the next two courses.
On the one hand, it was a very demanding and enriching experience, with compulsory readings, individual assignments, group discussions/work, etc., throughout each day of the week. However, it was a reasonable introduction and transition for me, a business novice, as well as for my classmates from diverse undergraduate backgrounds, as we were able to embrace and absorb each subject before moving on to the next one. At the same time, there were also some other training courses, internship preparations that needed to be done, which always kept us occupied from morning to night. Thus, the program has significantly strengthened my multi-tasking skills, and I did not realize that I could complete so many tasks in one day.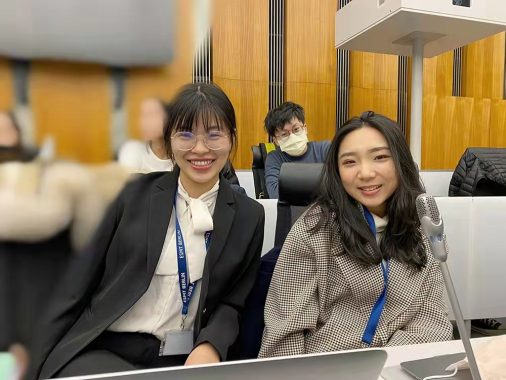 Furthermore, our lecturers not only have the required teaching competence to teach and explain the subject matters clearly and comprehensibly, but they are also very nice and willing to help us with questions after class. Regardless of whether we attend the class online or on campus, lecturers will try to engage as many students as possible to participate in the discussion, so each class is very interactive.
What is it like to work with the career services team?
The career services at ESMT are very supportive. From the beginning of the first module, they organized career workshops and organized one-on-one sessions to help us modify and optimize our CVs, cover letters, pitches, etc.
We can also schedule a coffee chat (online/on-campus) with career service managers anytime we have questions. ESMT has a designated career platform that offers us a variety of resources for job hunting and internship positions. The team also forwards us job opportunities coming from our alumni.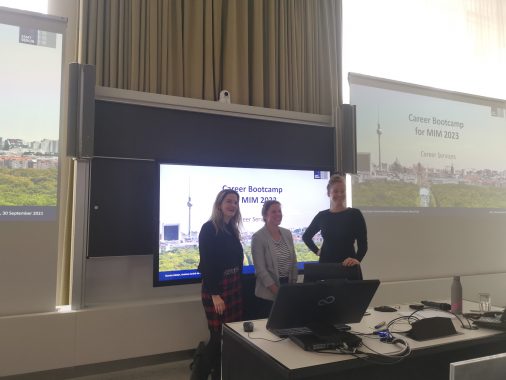 Before the recent increase of restrictions brought about by the pandemic, we were invited to attend conferences, career talks, or job fairs once or twice a week, where directors of companies gave presentations on campus. We had the opportunity to ask questions and communicate with managers, directors, and CEOs from the companies that we were interested in. For example, we met with Oliver Blume, the CEO of Porsche. In general, I think the career services and potential job offers provided by ESMT are great.
Can you provide an insight into the extracurricular activities and student life at ESMT?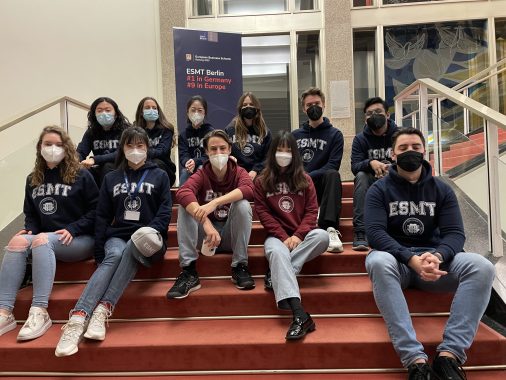 There are currently 14 student clubs at ESMT, including Net Impact, ACI Consulting, Women in Leadership, entrepreneurship, soccer, etc. What has exceeded my expectations is the ACI Consulting Club. The club not only provides mock cases to students, but also brings up actual consulting projects with real corporate clients, such as Huawei, The Apparel Company, and The Skincare Company, amongst others. It provides a valuable opportunity for us to practice and to add to our resumes and personal experiences.
Moreover, the professors and the staff at our school are very warm and patient. They actively research and listen to students' feedback, constantly improving their services. The campus facilities are also very well equipped and modern. It is very convenient to have lunch, do sports, and study on campus.
Beyond school, Berlin is an attractive city with a wide variety of recreational activities, including museums and exhibitions, outdoor markets, and natural scenery, etc. In Berlin, you can be exposed to fantastic moments every day.
ESMT Berlin is as fabulous as I expected and has exceeded my expectations, with wonderful courses, student services, career services, and extracurricular life.