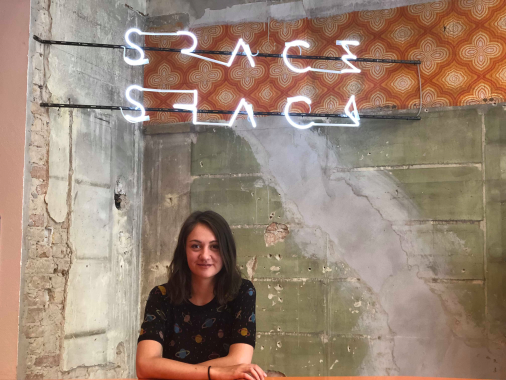 My name is Daria and I am an alumna from the 2014 MBA class at ESMT Berlin. I would like to share my story of founding a coworking space in Berlin, contributing to the startup ecosystem, and overcoming the many challenges along the way.
Shout
Our ESMT career counselors told us that "only one of three components can be changed without losing in the other: your location, your industry, or your position,". But I knew that I wanted to change at least two, my location and industry: from Moscow to Berlin and from the automotive corporate industry to the startup industry. As for the specifics, I was not sure yet.
To prepare for such changes, I decided to shout from every corner that I was interested in everything related to startups. I became the ESMT Entrepreneurship Club president, consulted startups on marketing, interviewed startups and investors, and I even tried to launch a business consultancy for creatives with my amazing MBA peer and friend Luiza.
However, that business idea did not work out and instead of being excited about graduation, I felt lost and did not have the next step in sight. But shouting around paid off when a few of my ESMT peers invited me to join them on a new business venture they were working on. They had met with an investor at one of ESMT's events and formed a business partnership, working on a business model for a coworking space together.
Burning passion
Berlin startup founders with an unwavering and burning passion amazed me. After working in a corporation where incentives came mostly from cash or status, it was my dream to work among people who love what they do. Founding a coworking space was like winning the lotto with double the jackpot. First, I could be a founder. Second, I could have all those amazing rock stars as my customers, work with them every day, and soak in their energy and attitude. The alternative option felt like going backwards rather than forwards. I did not want to go back to working for someone else and to that feeling of being trapped. Instead, I wanted to be my own boss and start a business from scratch.
But not everyone felt the same way. As time went on, many of the ESMT alumni in our team started leaving for new adventures when better paid and more fitting opportunities popped up. The remaining team members were my future cofounder Niels and I. We first worked from a study room that was offered to us by the school and it was strange to see new students occupy the rooms around us.
Although the business case we presented to the investor was successful, it took some time for the business to take off so we were not making money for the first 6 months after graduation. This was a big change from the well-paid corporate job I had had before. However, I was lucky to have the support of my friends and there were some perks to attending so many startup meetups, indulging in the stereotypical supply of pizza and beer! Despite the challenges, when I look back on this time, I did enjoy it. It was a test of my own burning passion for becoming a startup founder.
50 men, me, and the receptionist
Female founders are still rare today (70% of founding teams are all male in Germany), but five years ago, they were almost non-existent in Berlin. I remember the first event I was pitching at: a meetup for founders and there were only men attending, around 50 of them. The only other woman at the event was sitting at the reception and we spent much time laughing about the situation.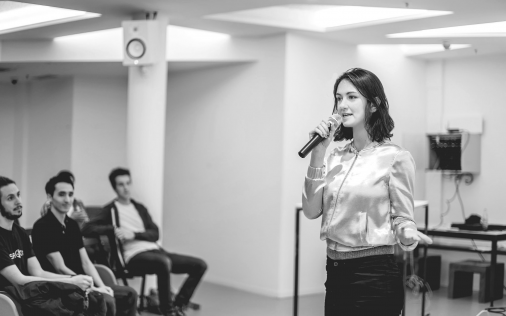 However, I never experienced discrimination of being a female founder. In fact, there were advantages as it was easier for me to get a gig on stage. Startup events struggled to get at least one female speaker, and this gave me the opportunity to speak, despite my lack of experience. It was convenient as I oversaw going out there and telling everyone about our new coworking space, Roof Up.
"Caressing walls"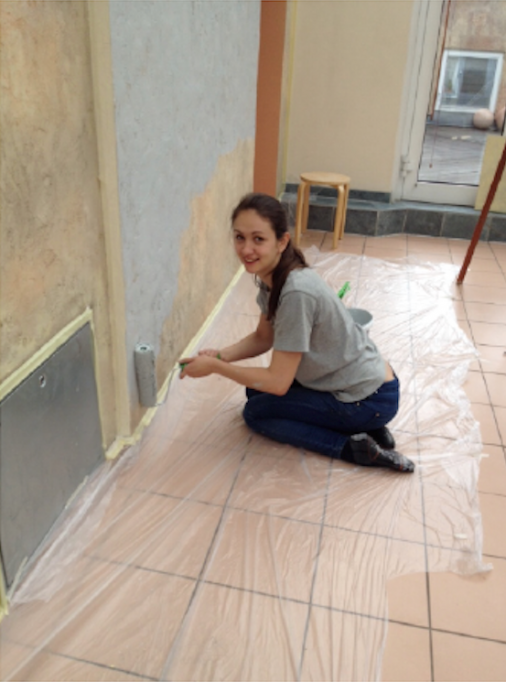 Being a foreigner was also not a problem. Although, I had a few funny situations misspelling German words. Our first coworking location needed lots of bootstrapping and I was so proud of our dedication, that I loved to tell people that we had painted the walls ourselves. The word "to paint" in German is very similar to the word "to caress" ("streichen"- "streicheln"). It was only after a few months that I realized that I had been proudly telling hundreds of people from a well-lit stage at many events that "it took us days, but we caressed all the walls by ourselves!"
The phrase is a good metaphor for how our small team approached the set-up of our first location. The main investment was intended for the next bigger coworking location, so we saved on costs by taking care of the decoration, invoicing, sales, customer support, moving furniture, and even the cleaning ourselves.
We had shifts for cleaning up, and mine once fell on Christmas Eve, exactly one year after the MBA. I remember washing the floor in the empty coworking space and musing what my ESMT peers would have thought if they saw me now. But that small first location was an invaluable experiment that showed us how many of our assumptions were idealistic and wrong. It helped us to figure out how to set up a professional coworking space: Space Shack.
Space Shack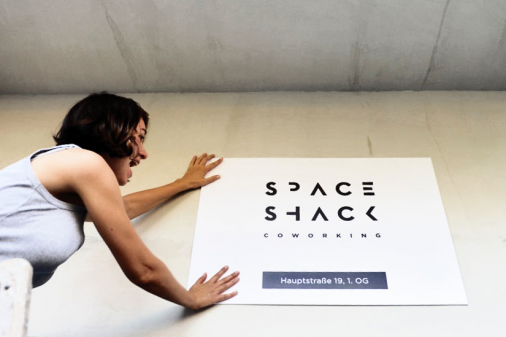 Even if you have not used a coworking space, you know what it is. However, the situation was different five years ago. Almost nobody knew what the coworking business model included and larger companies were suspicious of the concept.
We decided to create an innovative model on something that was already quite new at the time. We envisioned not just a hub to work, but a hub to live, connect, play, do sports, have fun, and, well, work too. We wanted to create a space station where all the different business worlds meet: startups, corporates, artists, and techies.
Burn out
The biggest challenge was that we didn't have actual experience with startups. We stumbled through all the hurdles with the help of contradictory pieces of advice. It was like hiking from A to B in the mountains without a map. You find lots of dead ends before you find the right path. All the running up and down makes you exhausted, and even the most stunning landscapes may escape your tired eyes.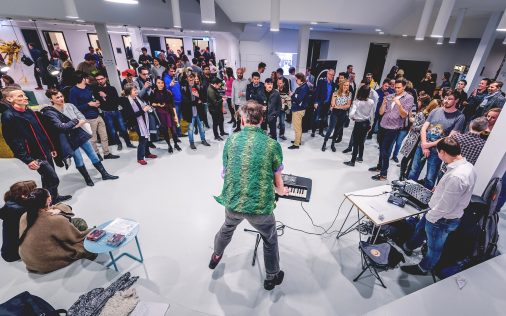 That is precisely what happened to me. The 2017 opening event of Space Shack, our big new hub was a great success. 500 people from the startup scene came to celebrate together with us. There was a fair where startups presented their newest products from virtual reality to fintech. While I was happy about how far we had come, I was exhausted and burned out. The late nights and early mornings had caught up with me.


Challenge after challenge
I thought it would get easier after the opening but I was wrong. The challenges kept on coming. From the fire alarm going off, to damaged furniture, an office flood, you name it, we experienced it all. The one thing I am most grateful for is my dear cofounder Niels. He was my MBA peer and is one of the best things I found at ESMT. We disagreed on almost everything business-wise but there was a strong bond of trust built through all the challenges we had faced and overcome. We would often have a coffee together in the yard and just chuckle about the absurdity of yet another problem we had to solve.
In the end, our coworking space has gained hundreds of happy members and I can call it a success. But working with startups as customers on a daily basis made me see how much they struggle. Most infuriating of all was to see founders repeating the same mistakes over and over again. After the mistakes pile up, a breakdown of the business is almost inevitable. So, I decided to quit the managing director position at Space Shack in 2018 to help other startups and to improve the startup ecosystem in Berlin.
Beyond Space Shack
Since leaving my managing director position, I have focused mainly on helping founders gain the skills I was missing when I started out. I have launched a university course on startups and worked with renowned educational organizations including Stanford University, the Technical University Berlin, and, of course, ESMT. Right now, I am working mostly with startup accelerators because I believe entrepreneurship skills are impossible to learn by theory alone.
I have worked with and trained more than 200 early-stage startups. But funnily enough, sometimes I feel like less of an expert in entrepreneurship than when I started; it is very humbling to work with smart and brave people every day. Based on my experiences, I have gathered some nuggets of wisdom that I would like to share with ESMT students and alumni. Here are my startup tips:
To learn how to startup, you should do it a few times. Consulting experience does not help much, nor does managerial work. But do not rush to leave your current job behind. On average, only the third venture has some level of success. So having the opportunity to fail a few times is important. If you do not have proper savings, it is better to start a project on the side and see where it leads you.
Use the weekly hours you put into your project wisely. The font on your website, your logo, your long-term product strategy – those are not really important in the beginning. What is most important is your Customer-Problem-Team fit.
Have fun! This is your life and you only live it once. Here are some of the big fun breakers: burn out, being too proud to drop a project, poor choice of cofounders and partners, and not addressing problems before they get out of control – don't hold yourself back by thinking "who am I to question, they probably know best".
Ask for help! ESMT definitely was one of the core reasons my startup journey happened. I got in contact with the startup world and met my co-founder there. ESMT helped us with the facilities, strategic business knowledge, finding the investor, and they even became one of our business partners. So if you are an ESMT student or alumni and want to launch a business, get all the help you can from ESMT and any other partners you can find.
Future goals
My goals now reach beyond the startup scene. COVID-19 has accelerated some of the economic processes we were expecting by 2030: the skill gap growth, the job market crisis, and the accelerated digitalization of business processes. This puts a heavyweight on our society and socially impactful entrepreneurship is still considered a charity-based endeavor.
Companies with a positive social impact, especially in the Future of Work area, will help us all withstand the upcoming crisis in a more positive way. I am supporting such companies by finding financially sustainable business models for them, helping leaders to turn to social impact by increasing their emotional intelligence, and training sustainable startups in business topics.
Let me know if you are interested in those topics and are willing to contribute your time and energy! I am sure we will find a way to collaborate.
Reach out via LinkedIn, and do not forget to mention we are both from ESMT 😉