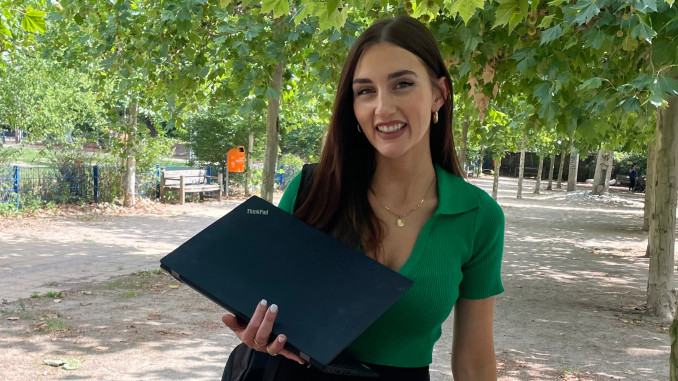 I am a second-year master's student at ESMT Berlin. I recently completed my internship at Deloitte Consulting GmbH in human capital strategy consulting, in the area of organizational transformation and change management.
I chose Deloitte because I wanted to collect as many insights as possible in a short amount of time and learn more about several topics reflected in consulting projects I am passionate about.
Deloitte has also been on my top employer list since I met a Deloitte consultant during my undergraduate studies. I was fascinated by her tasks and experience at the company. As Deloitte is one of the pioneers of human capital consulting and I have a psychology and business background, a job in this field seemed to be the most fitting and exciting job for my profile.
Tasks and responsibilities
Not only did I have the chance to work in human capital, but I also gained experience in leadership training, change management, digital enablement, and agile organization designs.
I had the opportunity to take part in a big project and exciting internal initiatives. In change management, we built the strategy for a change within a major international company to one central IT solution leveraging innovations for all departments.
I was also responsible for conducting risk assessments for change readiness among employees which was something I had never done before and gained hands-on experience. I was very curious about leadership and agility and was fortunate to work with internal teams to explore these topics.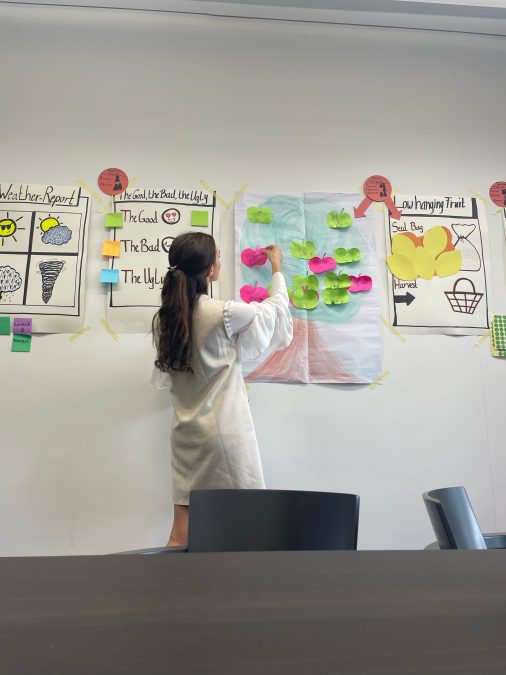 I supported a team focusing on leadership consulting topics well as creating keynotes about agile ways of working. Thus, I had the chance to touch on all topics I wanted to learn more about in a real-life situation to understand what I'm most interested in and good at.
Highlights
Right in the first week of my internship, I got super lucky as I joined the team just in time to attend the first in-person event after the pandemic, with all consultants traveling to Hamburg for a fun two-day event with keynotes, workshops, and of course a big party.
My favorite memory from this event was working together with an amazing group at a startup consulting challenge. We came up with a marketing solution for a sustainable company and won the pitch. We got to celebrate on stage with 2000+ people and grew together as a team and friends.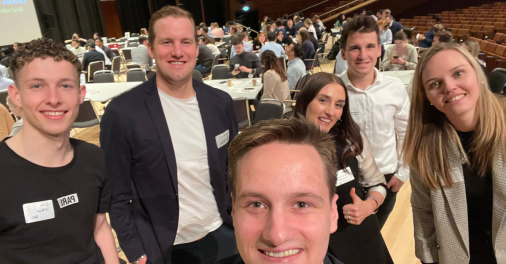 Leveraging my knowledge
For the leadership topics, I used my knowledge gained from the Managing and Leading People with Agility class at ESMT which covered important topics I was faced with in this department. I was able to dive into the topics right away.
For my main project, it was extremely important for me to understand the organizational setup behind a successful innovative organization. Our Economics of Innovation and Technology class helped me to understand why innovation management is so important, and how an innovative environment can be built within a company. Professor Stefan Wagner discussed the topic of organizing innovation in collaboration strategy theories in-depth with us.
To grasp the organizational structures and employees' behaviors during change situations, I was very well equipped for this challenge through my Organizational Behavior class. Furthermore, I was able to understand the important analysis that had been run for the client which I learned in the Competitive and Corporate Strategy course.
Support from career services
Career services at ESMT helped me prepare more than I could have ever imagined for the internship application phase. They set deadlines, gave advice, and created coaching opportunities during the process of creating CVs, cover letters, pitches, and LinkedIn profiles.
I experienced the situation of having several offers and had a hard time deciding what to do as I still hadn't heard from my dream employer Deloitte. When I finally heard from Deloitte and got my offer, the first thing I did was call my career advisor Dorota and celebrate with her.
Key takeaways
Combining my two backgrounds – psychology and business in one job have been an aspiration of mine. I have experience working in recruitment and leadership training, which primarily focused on using my psychology skills.
However, working as a consultant at Deloitte made me face the business world. I worked with a huge account/client and their business model, as well as on strategy consulting projects related to organization transformation and change management.
Change management combines psychological processes and behavioral predictions with business decisions and developments, where a company tries to drive the adoption of its new business model via its workforce. For the first time ever, I got to work on a project where my psychological understanding, as well as my business understanding, was equally important, and both were strongly required.
I further developed my skills and excelled in leadership development and change management, as well as agile ways of working, and my interest in these topics was reinforced. I learned an incredible amount about these two topics on the job and I also got to investigate Deloitte's and our client's research on leadership and agility which I enjoyed researching.
The master's program has been the biggest personal development curve I have ever experienced. We all got to meet so many new people with diverse backgrounds, experiences, stories, and cultures. It has been the most enriching journey I have ever been on, and I enjoy working with a new group and smart minds for every project. In addition to getting excellent academic input from high-class faculty, we all learn from each other and that really is the best thing about doing your master's on campus in a community like the one ESMT fosters.
The internship was an amazing opportunity to digest and validate everything I learned during the first semester by seeing it in practice and recognizing patterns I had observed in case studies. I felt like I was able to observe and apply things from nearly every class I had taken in the first year. Now we all get to come back to school with new perspectives, even more stories, and a better understanding of the big picture.
Tips for first-year students
If I can give one piece of advice on your internship process that will start soon:: Don't commit too soon. It is so important to have faith in yourself and wait for the right offer to come. They will come for sure as we are all qualified people. Furthermore, it is important to keep your career advisor up-to-date on your offers and interviews so they can support you in the right way.