The walls are rising, rising very fast. A little more than 11 months have passed since the day I arrived in Berlin, and the view of the Berlin skyline from Auditorium 1 at ESMT was an integral part of my classroom experience. The historic Berliner Dom, the Altes Museum, the E&Y building on a far corner, the moving arms of the cranes carrying steel rods, frames and what not and the Berlin skyline in general, were the unnecessary but often unavoidable distractions to many of the current students of the full-time MBA class (if not many, at least for me). The "Berliner Schloss" coming up right across the street is unknowingly taking away the view that once had offered me an enjoyable momentary distraction.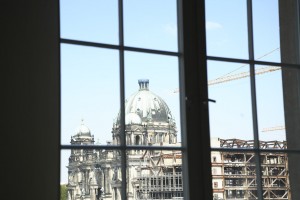 Change, they say, is the only thing that is constant. At this point in time, I could not agree more. I was a stranger on the 13th of January this year—to the city, to the 61 other colleagues of my class—but not anymore. The MBA journey has been filled with memories, both sweet and bitter, memories nonetheless. There have been moments when the case readings seemed never-ending, assignments stretched late into the evening, and work in general seemed overwhelming. There were deadlines one after another after another. One of my biggest learning experiences this year is that precisely during such moments, I should not ask for the rush to pause, for the flow to slow down; since such a wish is akin to wishing for death. There will be work, there will be change. The best we can do is to stay prepared and face it head on. As long as we breathe, at least minimally, life moves.
Why do I bore you with philosophy on change right now? Did I run out of topics to write, and is it the usual non-coherence of my thoughts? Well, we graduate today. I could not think of a better theme than "change" to write briefly about.
Life ahead is interesting, full of opportunities, I believe. Some of us head back home to take a break before we restart the job search, some stay back to look for opportunities, and some others are all set to start their new career. All the best to everyone.
I will miss the view, I will miss the class, I will miss ESMT.