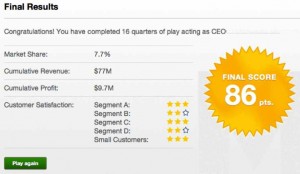 One of the last sessions of Introduction to Marketing course Professor Sumitro Banerjee devoted to simulation. Everyone acted as an executive for manufacturing company: finally we could take "the driver's seat" after all classes and try our knowledge. I spent half of my weekend to get more points in simulation choosing different strategies and trying different concepts learnt in class.
I should guiltily admit that before starting marketing classes I was really sceptical about it: I never worked in this field and supposedly I will have no opportunity to do so, as I am completely in love with Finance:), I always thought that marketing is all about fun and advertising.
I am really happy that very practical teaching approach and case studies gave me opportunity to see the beauty of marketing, and I am now completely fascinated by tools and techniques, which help to measure efforts and performance of marketing teams and campaigns.
Simulation was a real moment to check how theory works and how strategy chosen from the very beginning can affect company performance.
At the moment I am already envying next year MBAs, as they will have very inspiring journey through marketing. I really hope it will be a spellbinding captivation as well.