So we are now in the second half of the year. In addition to the courses on governance that Marcello spoke about in the last blog entry, we also started on the elective courses where students get to choose. I have chosen to take a course called "Walks in Mergerland"-which looks at the world of M &A, the failures, what went right, what went wrong and the tidying up to be done after. The POST merger analysis which businesses don't take as much time to do, why I guess because the PRE merger is much more hyped about and in the public eye while many firms hardly take time to really assess the successful implementation of a merger; once the dotted line has been signed. One of the cases is on a company I actually worked for, so that should be quite interesting.
Last Friday, we had an exam on markets and regulations and were all quite exhausted. You think after writing so many exams during the course of the year it gets easier, but it's not. it's still the same series of emotions, preparation, and its really just as challenging.
So to unwind, the girls in the MBA program got together for a "girls' night in", some pizza, drinks, videos and just catching up with each other. We haven't really met together like this in a while and it was great to get together. The reality is setting in, it's just four more months and then we will be parting ways, the one intensive MBA year is over.
Well, let's make the most of the time we have now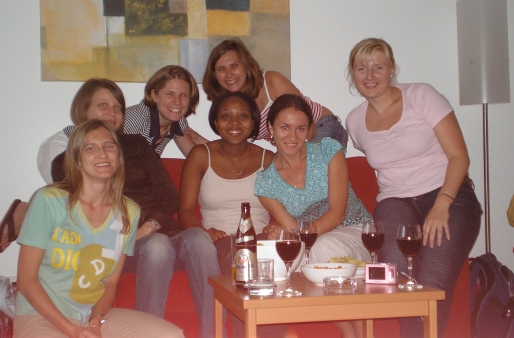 Photo from the girls' night in