Scepticism. That was my gut reaction when Nick Barniville first sent the Allianz scholarship holders an e-mail with the offer of arranging a personal mentor who was an ESMT alumnus and Allianz employee. I'd been down this road before, and it had been riddled with potholes. As part of a DAX30 company's corporate programme to support young women pursuing a MINT degree, I had been assigned a mentor. Although excited about the opportunity at first, it hadn't quite worked out the way I had envisioned it, and so I had come to view arranged mentorships with the same scepticism as arranged marriages.
What is a mentor? In Greek mythology, Mentor was put in charge of Odysseus's son, Telemachus, while Odysseus fought in the Trojan war. Because of Mentor's relationship with Telemachus, the personal name Mentor has been adopted in English as a term meaning someone who imparts wisdom to and shares knowledge with a less experienced colleague. [1]
So a day before I started my internship at Allianz, I called PA [2] and boldly introduced myself as his mentee. The strangest feeling ever. How do you just call up a stranger and say, "Hi, this is Matida – your mentee!"?
A meeting was arranged, and a couple of hours later we chatted over dinner near the English Garden in Munich. The first 30 minutes were a fast-paced sort of interview: Where are you from? What did you study? Why the ESMT? If you had €20,000 what stocks would you buy at the moment on the Zimbabwe Stock Exchange? What would be your expected returns after six months? If you had no budget constraints, what business would you start today?
Be early for work, be reliable, look smart and sharp, do more than what is expected of you – that was the take-away message of that first meeting. With a firm handshake, the deal was sealed to meet up once a month, to give regular internship progress feedback, and to feel free to ask for advice.
This past Friday, during our third meeting over dinner, PA said something that gave me a big AHA! moment. I turned 25 a couple of months ago, and have been musing on life in general and my life in particular. If I am lucky to be conscious when I take my last breath, what are the things that will make me be able to say I ran a good race and fought a good fight? What will be my 'KPIs', as defined by me, that will make me say, "Oh wow…..oh wow…"? Quarter-life crisis? Nah, just reflecting and projecting.
PA then said, "Success is not accomplishment. Success is preparedness." My furrowed brow must have indicated that I wasn't buying it – not just yet.
Then he broke it down: In life, when you set rigid goals, you limit yourself. Don't let your goals cage you in. What you should be doing is preparing for when life's occasions and opportunities arise; when they do, let them find you prepared. Let reading expand your horizons, be inquisitive about the world, surround yourself with people smarter than you. That way, you're preparing and opening yourself up for something even bigger than your wildest dreams.
"And when the occasion doesn't arise?" I asked.
He shrugged, "That's life. But then you'll know you did everything possible – you did your part."
By that time, I'd grabbed a pen and had jotted those lines onto my serviette, as I so often do when inspired.
Looking back, I just remembered that my Girl Guides motto was also, "Be prepared!" Hmmm….now it makes bigger sense than just making sure you have your pocket knife on you when you go on 5th grade field trip.
Today, I have FOMO (the Fear of Missing Out) to thank for taking up Nick's offer 🙂 I'm grateful to all those who organized this mentorship opportunity. A big "Thank you!" also goes out to my mentor for taking time out of his busy schedule to impart his wisdom and to share his knowledge with me. May I be a worthy student.
Signing off,
Tida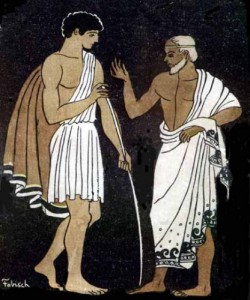 [1]
Mentorship: "Indlela ibuzwa kwabaphambili" – A Ndebele proverb that can be loosely translated to mean that the twists and turns of life's road ahead of you are best asked about from those who have already trodden it.
*************************************************************************************************
[1] http://en.wikipedia.org/wiki/Mentor
[2] I have only given my mentor's initials, as I have not asked for permission to use his name in this blog post. I could just write to him and ask, but by the time I get a reply, I may not be as inspired to share this post.