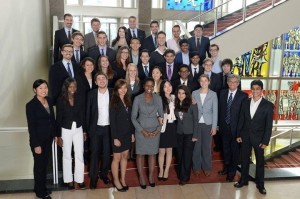 6 weeks have whizzed past since the inaugural MiM programme took off on the 9th of September 2014 at the ESMT. Time certainly flies when you're having fun!
We've crunched through Statistics, Decision Theory, Operational Behaviour and Business Economics. Starting next week, we'll be taking on Financial Accounting and Decision Making.
I just did the math, and it turns out that in the last 44 days, we have done 9 handed-in assignments, 13 case studies, 3 exams and 3 presentations (not forgetting the 2 photo shoots :-).
As Olivia Pope would say in my favourite TV series, Scandal,
"We're gladiators; gladiators in suits."
The MiM programme is definitely not for the feint-hearted. Coming from a purely, maybe even dryly, technical background, the MiM has had a demanding and rigorous start.
The midnight oil has certainly been burnt on many a night in the past weeks. So feeling like a zombie in the morning is now somewhat normal. The other day I jokingly said,
"I'll probably walk onto the graduation podium to the Thriller soundtrack in the background in June 2016- dance moves and all."
I must take my hat off though to my fellow MiMs who are generally a very jolly lot. So even on days when we're groggy and could do with extra sleep, we can still afford to laugh and at least be happy zombies.
34 students, 19 nations, 5 continents — that's our MiM class.
Being in a class of people who hail from all corners of the world and bring different experiences, perspectives and flavours to the table has made for a very rich learning experience.
[Side-bar: I must add that I am particularly impressed that nobody has asked me if I speak "African" – that's always a good sign.]
'Til the next blog entry:
So long, gladiators!