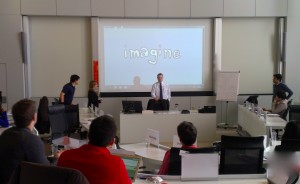 Last month Social Impact Club organized first "Lunch Discussion Table".
Virginie Bonnell invited Director and CEO, Ecologic Institute, Berlin Andreas Kraemer to present Institute and share his ideas on sustainable development with members of MBA 2013 class.
We started with a film "Tour through a Knowledge Garden – Ecologic in five minutes," then proceeded to current projects initiated and supported by Ecologic Institute.
We really hope, that all students will support this initiative, and we are all waiting for the next "Lunch Discussion Table".